Joint Solutions:
Accenture Security Integration Solution:
Building business resilience with an elite combination of industry-leading solutions (Palo Alto Networks, Splunk & Tanium)
More information at https://www.accenture.com/us-en/service-cyber-defense-platform
Network Security Health Check:
Provide an In-depth review of your network security components to determine your organizations maturation and partner with you to develop a security strategy for optimal transformation of your network.
Accelerated Conversion and Consolidation:
Provide a framework that enables your organization to identify the needs, criteria, and plan for a new network security design that can be confidently and securely deployed to a fully-realized and tested solution.
Network Segmentation:
Offering guidance to customers as they consider a micro-segmented network at higher levels of the OSI model that includes: increasing performance, providing application visibility, inspecting and controlling encrypted traffic.

Multi Cloud Deployment:

Understanding and consulting on a multi cloud model that will align your needs with cloud provider capabilities to provide; optimized performance, minimal latency, data sovereignty, and improved visibility within the cloud an increase your security operations agility and ROI.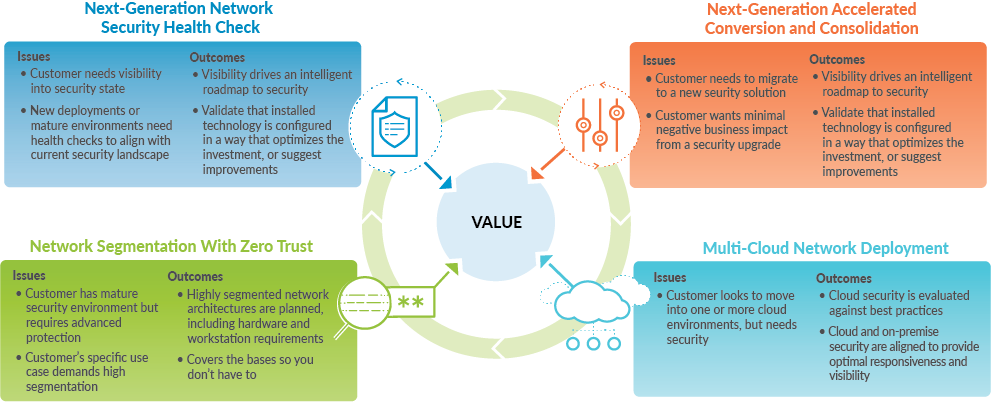 PARTNER TOPICS
Palo Alto Networks Product:
Next Generation Security Platform
https://www.paloaltonetworks.com/products/designing-for-prevention/security-platform
Press Release:
Cyber Defense Platform:
https://www.paloaltonetworks.com/company/press/2016/accenture-splunk-palo-alto-networks-and-tanium-team-on-new-cyber-breach-prevention-and-defense-solution
Whitepaper:
Extending Networks into the AWS cloud:
https://www.paloaltonetworks.com/resources/whitepapers/extending-networks-into-the-aws-cloud
Partner Page:
Accenture Cyber Defense Platform:
https://www.accenture.com/us-en/service-cyber-defense-platform
Accenture Security:
https://www.accenture.com/us-en/security-index
For questions about this partnership and solutions: Accenture@paloaltonetworks.com