ESTABLISHING BREACH PREVENTION SECURITY POSTURES
As businesses and organizations face cyberattacks in greater volume and sophistication, it is increasingly clear that traditional approaches of detecting and remediating threats are inadequate to effectively manage the people, process and technology components of cybersecurity risk.
Palo Alto Networks and PwC have therefore established a strategic partnership to help customers build security architectures, organizational structures and computing processes in order to adopt security postures oriented to prevent successful cyber breaches, thereby becoming more cyber resilient.
At the core of this partnership will be a jointly developed state-of-the-art security framework that serves as a guide for businesses and organizations to develop and implement prevention-oriented cybersecurity postures, incorporating the latest advances in technology to move beyond legacy security products and enhance risk management processes.

PALO ALTO NETWORKS AND PwC STATE-OF-THE-ART SECURITY FRAMEWORK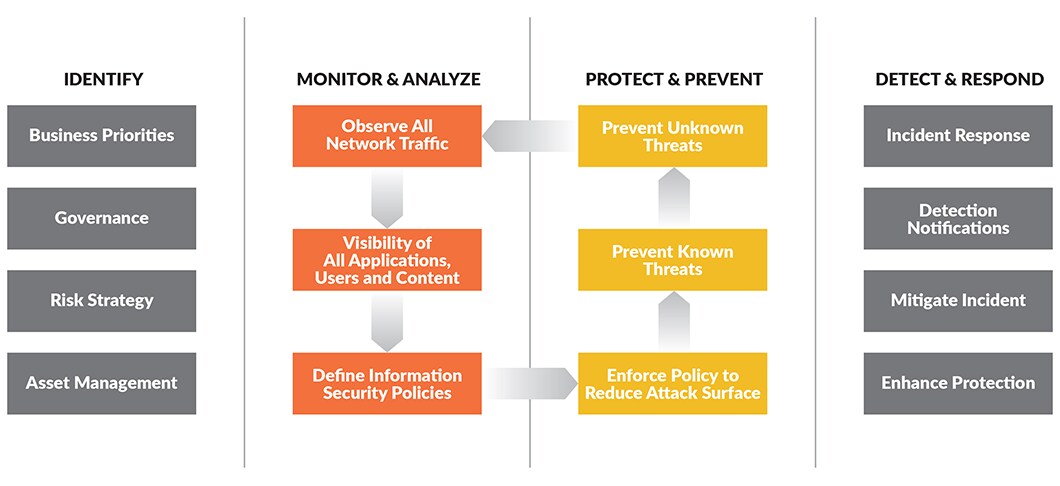 The prevention-oriented security framework consists of four pillars:
Identify organization-specific priorities and governance structures;
Monitor and analyze all traffic to establish visibility of all users, applications, and content traversing corporate networks, cloud, and endpoints, in order to define and refine organizational information security policies;
Protect from attack by enforcing policy to reduce organizational attack surface, and prevent known and unknown threats; and
Respond to the inevitable successful attack in a manner that incorporates mitigation and protection mechanisms to prevent similar attacks in the future.