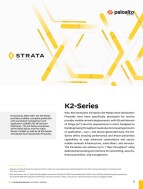 Introducing the K2-Series: Explore 5G and IoT opportunities with confidence
The move to 5G creates disruptive business opportunities for mobile network operators – but it also increases the number of potential intrusion points, intensifying the security impact.

The new K2-Series gives mobile network operators complete visibility and control with automated security enforcement across all network locations, so you can maximize the new opportunities of 5G mobile networks with confidence. Read how the K2-Series combines complete protection, consistent management and throughput of up to 1 Tbps, using dedicated processing and memory for the key functional areas of networking, security, threat prevention and management.