Targeted threats, at your fingertips
AutoFocus™ contextual threat intelligence service accelerates analysis, correlation and prevention workflows. Unique, targeted attacks are automatically prioritized with full context, allowing security teams to respond to critical attacks faster, without additional IT security resources.
Threat context you have never seen before
Gain visibility into the most critical threats with contextual intelligence on malware families, campaigns, threat actors, malicious behaviors and exploits used. AutoFocus allows you to answer questions like: "Who is attacking me?" "What tools are they using?" and "How targeted or unique is this threat?"
Extend the platform with threat intelligence
AutoFocus helps the entire IT security team become advanced threat hunters, instead of relying on a small group of highly specialized security operations professionals. Threat intelligence from the service is made directly accessible in the Palo Alto Networks platform, including PAN-OS and Panorama, without requiring a separate tool.
---
Security teams are inundated by alerts and threat data, lacking the time to follow up on each event, let alone investigate advanced, targeted attacks. The issue isn't a lack of information, but rather the ability to surface high-impact threats and drive automated prevention from the intelligence you already have.
Our Most Intelligent Service Yet
AutoFocus enables you to distinguish the most important threats from everyday commodity attacks. Now, instead of seeing that a malicious event has occurred, you immediately know the context around an attack, such as the malware family, campaign, or malicious actor targeting your organization. When identified, AutoFocus will alert your security team about high-priority events, enabling you to take swift action to mitigate their impact.
Visibility Into the Unknown
AutoFocus provides unprecedented visibility into unknown threats, with the collective insight of thousands of global enterprises, service providers, and governments feeding the service. AutoFocus correlates and gains intelligence from:
WildFire™ service – the industry's largest threat analysis environment
PAN-DB URL filtering service
MineMeld application for AutoFocus, enabling aggregation and correlation of any third-party threat intelligence source directly in AutoFocus
Traps™ advanced endpoint protection
Aperture™ SaaS-protection service
Unit 42 threat intelligence and research team
Intelligence from technology partners
Palo Alto Networks global passive DNS network
Accelerated Analysis and Hunting Workflows
Legacy approaches to securing the organization rely on aggregating an increasing number of detection-focused alerts with complex analysis workflows after the event.
AutoFocus puts the entire wealth of Palo Alto Networks threat intelligence at your fingertips, dramatically cutting the time it takes to conduct analysis, forensics or hunting efforts. Threat intelligence and context are available directly in PAN-OS® security operating system, Panorama™ network security management, or the AutoFocus portal for in-depth searching across indicators of compromise (IoCs).
---
Aggregate Any Third-Party Intelligence Source
Organizations rely on multiple source of threat intelligence to ensure the widest possible visibility into emerging threats, but they struggle to aggregate, correlate, validate and share indicators across different feeds. As part of AutoFocus, the MineMeld application provides a single, unified, threat feed and indicator management system.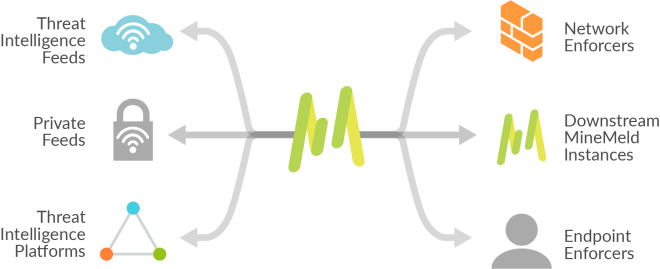 ---
Threat Intelligence Drives Prevention
Security teams require more than just raw threat intelligence – they need to automatically transform it into actionable controls that prevent future attacks. AutoFocus simplifies workflows to create and enforce new controls, from fully automated to user directed, within the same unified security platform.

---
---
---
Realize the power of the Application Framework
Magnifier is part of the Palo Alto Networks Application Framework, which lets you quickly consume the latest cybersecurity innovations as apps. The Application Framework makes it easy to adopt cloud-delivered capabilities like Magnifier – so you can gain immediate security value, and spend less time provisioning and managing infrastructure.