Over the years, many of you have been asking us when we'll host our first global user conference. At last, we have very good news for you! This November 12-14 in Las Vegas, we welcome you — our current and future customers and partners — to the Palo Alto Networks Ignite Conference 2012.
Based on your feedback, Ignite will be about customer collaboration — an opportunity to learn, share, and inspire each other. And as you may know by now, we at Palo Alto Networks never do things half-hearted, so expect for Ignite to be the network security event of the year!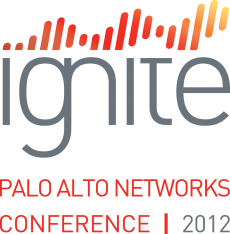 Visit our Ignite page to learn more about the conference, to view the agenda and also to register to attend. Note that we're offering a significant discount if you register before August 31st, so don't miss out. In the coming weeks, we will provide you more updates on the conference highlights, including guest speakers, etc.
I personally look forward to seeing you at Ignite this November. And on behalf of all of us at Palo Alto Networks, thank you once again for your continual support and participation. See you in Vegas!