It's just about time for the largest gathering of enterprise security experts in the world! We're counting down to Ignite 2014 – just seven business days away – and now's the time to register if you haven't yet done so.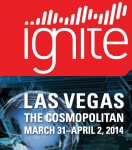 Over the past few weeks, we've been taking a closer look at select sessions, speakers and event details as we finalize the Ignite 2014 program.
If you haven't had a chance, head over to the Ignite 2014 sessions page for an updated schedule of breakout sessions, including hands-on workshops and timing for each of our marquee tracks. And keep watching this space for more speaker and session information.
In the meantime, we'd also like to dedicate this Spotlight on Ignite 2014 to our sponsors, including our Guru-level sponsor, VMware, and more than 15 sponsors at the Mastermind, Genius and Prodigy levels. Head to our Ignite 2014 sponsors page for more details on each organization and its partnership with Palo Alto Networks.