Since launching February 2015, Fuel User Group has quickly grown into a powerhouse of knowledge and resources for cybersecurity professionals who use Palo Alto Networks technologies. If you have been wondering who makes up Fuel and its nearly 100 chapters, we've got your breakdown.
The Fuel Community is:
Global: Members span 66 countries, in 6 continents.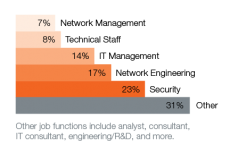 Diverse: Members touch over 30 industries including Education, Technology, Healthcare, Government, Media & Entertainment and Telecommunications.
Growing: Within a few weeks of its launch, the Fuel community has gained over fifteen hundred members, and continues to grow steadily.
Go-To Experts: Fuel members are compiling best-practices, discuss tips and tricks and sharing resources to make their jobs easier—all through FuelUserGroup.org.
Does any of the above describe you? Join the Fuel Community today.