This month Palo Alto Networks officially opened a new office in the Philippines, based at the Joy-Nostalg Center in Ortigas Center, Pasig City.
The launch event last Friday, themed Next-Generation Datacenter Security, was held at the Makati Shangri-La. The event program included technology sessions, customer presentations and a panel discussion on next-generation cybersecurity solutions. We received tremendous support for this event, with over 100 customers, partners, external speakers and Palo Alto Networks executives in attendance.
The momentous gathering was also helmed by the Chief OIC of the Cyber Security Research and Analysis Division from The Philippine National Police (PNP) Anti Cybercrime Group, Psupt. Elbert Pagente.
In 2013, the PNP activated the PNP-ACG (PH National Police Anti-Cybercrime Group (PNP-ACG), with the primary responsibility of implementing cybercrime laws and anti cybercrime campaigns of the PNP and the national government. The PNP-ACG focuses on cybercrime, computer and other content-related offenses.
Check out some photos from the event: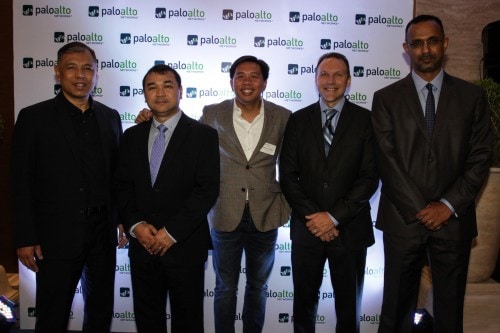 Caption: (from left) Palo Alto Networks ASEAN Vice President and General Manager Wahab Yusoff, Philippines Country Manager Lyndon Lacanienta, Globe Telecoms Chief Information Officer Henry Aguda, Palo Alto Networks APAC Head of Systems Engineering Joseph Green, and Asia Pacific and Japan Regional Marketing Director KP Unnikrishnan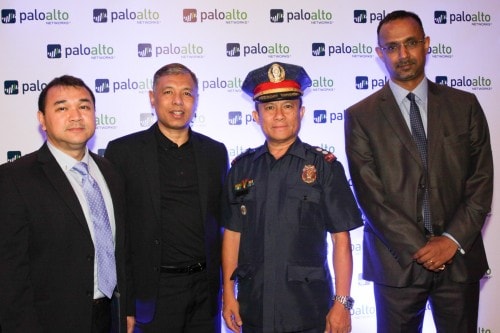 Caption: Lyndon Lacanienta, Wahab Yusoff and KP Unnikrishan of Palo Alto Networks with Psupt. Elbert Pagente.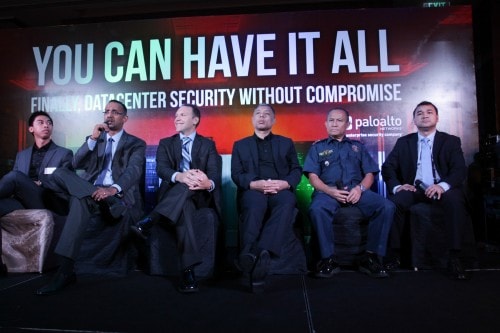 Panel session at the event. (From left): Systems Engineer Marc Lainez, KP Unnikrishnan, Joseph Green, Wahab Yusoff, Psupt. Elbert Pagente and Lyndon Lacanienta
Analysts agree that the Philippine economy will continue its upward trajectory and hit the GDP growth target of 6.3% in 2015 and 2016, behind only China and Vietnam in terms of annual growth percentage. This is driven by strong momentum in the IT & BPO sector and a steady increase in Overseas Filipino Workers (OFW) remittances. 12 million Filipinos live overseas, comprising one of the world's largest diasporas. The IT & BPO growth also fuels the increasing demand for real-estate and consumer spending as the middle class expands.
The customer base of Palo Alto Networks in the country cuts across a wide range of industries, including telecommunications, financial services, retail, energy, utilities, education, manufacturing, healthcare, hospitality, media and entertainment, and the public sector.
The opening of the new office not only will position us for further growth in Asia Pacific, but also allow us to better serve the increasing needs of enterprises and service providers in multiple industries across the country.
We'd like to thank all of our customers and partners for being there last week!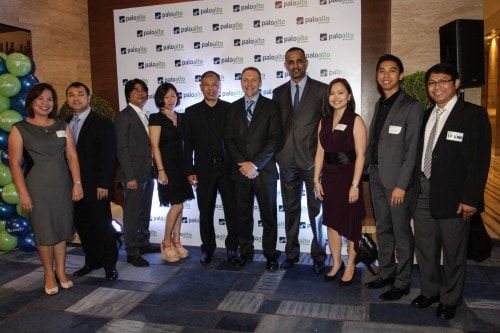 Caption: Palo Alto Networks Philippine team with regional leaders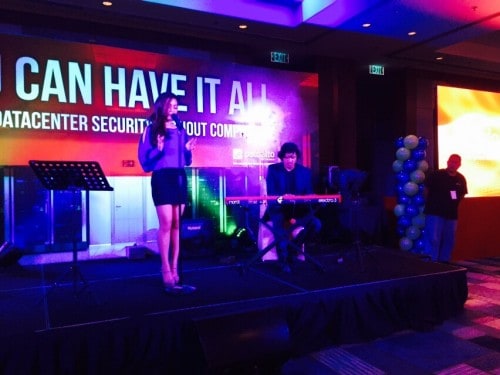 Caption: An award winning Filipinio soul band, SinoSikat, performed at the launch