We know that security deployments are complex and overload IT teams with mountains of data from multiple sources. That's why, in PAN-OS 7.0, we are empowering you with these 5 easy-to-use management features:
NEW! Application Command Center

The ACC is redesigned to provide improved visibility into network traffic and actionable information on threats. The new layout includes a tabbed view of network activity, threat activity, and blocked activity and each tab includes pertinent widgets for better visualization of traffic patterns on your network. For a personalized view of your network, you can also add a custom tab and include widgets that allow you to drill down into the information that is most important to you.
Read more >> All New Application Command Center
Automated Correlation Engine
Do you find trying to locate a compromised host is a bit like trying to find a needle in a haystack? The new automated correlation engine, which is an analytics tool that detects security events on your network, enables you to do just that! It collects isolated events across multiple log types on the firewall, queries the data for specific patterns, and correlates network events to identify actionable information such as host-based activities that indicate a compromised host.
Read more >> Automated Correlation Engine
Global Find
If you've ever wanted to use your PAN-OS or Panorama web interface to find a particular IP address, object name, policy name, threat ID, or application name in your configuration, you will be thrilled to see that PAN-OS 7.0 now includes that functionality! For example, if you temporarily blocked an application that is defined in multiple security policy rules and you now want to allow that application, you can search on the application name.

The global find search results are grouped by category and provide links to the configuration location in the web interface, so that you can quickly and easily find all of the places where the string is referenced. In this example you could quickly locate all referenced polices to change the action back to allow.
Read more >> Global Find
Tag Browser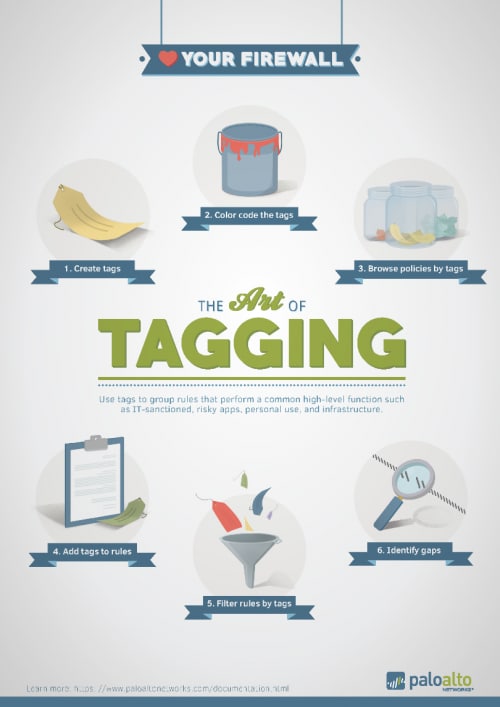 The tag browser introduces an easy way to view all the tags used within a rulebase. In rulebases with a large number of rules, the tag browser simplifies the display by presenting the tags, the color code, and the rule numbers in which the tags are used; it also allows you to group rules using the first tag applied to the rule. You can, for example, filter rules by the first tag applied, and view the rules grouped by a high-level function such as Internet access or data center access. In this grouped-rule view, if you identify gaps in coverage, the tag browser allows you to move rules or add new rules within the rulebase.
Read more >> Tag Browser
Policy Impact Review for New Content Releases
Before installing a new content release, you can now review the policy impact for new App-IDs and stage any necessary policy updates. This enables you to assess the treatment an application receives both before and after the new content is installed and then prepare policy updates to take effect at the same time that the content update is installed.
Read more >> Policy Impact Review for New Content Releases
Can't Get Enough of PAN-OS 7.0?
For more information about management features in PAN-OS 7.0, check out the Pan-OS New Features Guide Version 7.0 page on the Technical Documentation Site, or select the 7.0 search facet (under OS Version) on the Document Search page!
Happy reading!
Your friendly Technical Publications team