I recently presented to the 2016 Cyber Defence and Network Security (CDANS) conference in the United Kingdom. As I was preparing remarks for senior U.S. and European military leadership, I began pondering 2015 in network security and what I would advocate to these leaders.
Entering 2016 with the Ukraine attacks weighing heavily on our minds, what follows are my observations and thoughts for using 2016 to course-correct with both the recognizable patterns and greater attention to best practices to ensure our Defense in Depth strategies are agile.
What's New
In 2015, as we do every year, Palo Alto Networks assessed application usage and threats seen on our customers' networks. We also analyzed some of the larger attacks against government networks. From this analysis, we can learn from the patterns to help advocate for appropriate threat prevention. These trends specifically jumped out:
New Attacks
There are new attacks to be studied from which we must learn some hard lessons. Our government agencies and critical national infrastructure (CNI) were repeated targets in 2015. Looking across three major government attacks, there were new "victims" as well as similar themes from the past. Using the cyberattack lifecycle as our guide, the attackers often used either an exploit to a well-known vulnerability or malware in spear phishing campaigns to establish their initial beachhead. Other callouts to note: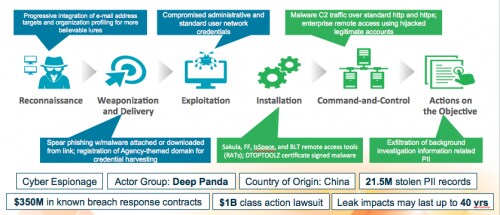 Repeat Offenses
These attacks serve as a reminder that we are still making the same mistakes across the people-process-technology triad, including:
The Way Forward
What can we learn from the 2015 application usage patterns and the government and CNI attacks? 
Next Steps and Resources
We don't have to repeat the mistakes of 2015 [and, for that matter, those mistakes we have tended to repeat]. Threat prevention is possible. Let's use 2016 as a banner year for being more thoughtful in our cybersecurity and modernize our Defense in Depth strategies to reduce the risk to our governments and critical infrastructure and ensure the resiliency of our digital way of life.
Special thanks to Rob Downs, Unit 42, for his government attack analysis.