Did you miss any of this week's Palo Alto Networks action? Don't worry, we've rounded up our top news and views right here:
Our Cybersecurity Predictions series continued with sure things and long shots for cybersecurity in 2017. This week's predictions include:
Unit 42 shared new research on the DragonOK group's use of phishing to target many business sectors in Japan and beyond.
Users can unknowingly be the weak links in your security infrastructure. We showed you how to prevent this from happening.
Unit 42 gave an update on the Shifu Banking Trojan including new analysis on the malware's evolving features.
Here are upcoming events around the world that you should know about. Don't forget to register for our new events calendar!
Join us on live February 7th, 2017 for the largest cloud security event of the year! Register today.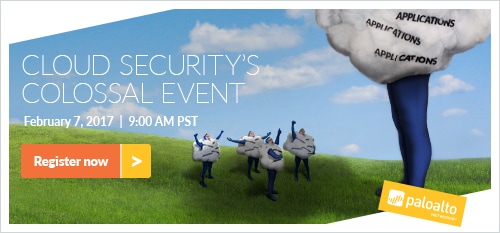 Live Webinar: Safely Enable SaaS Applications with Aperture
NGFW: Next Generation Firewall Live Demo
Advanced Endpoint Ultimate Test Drive
January 11, 2017
Phoenix, AZ