Each year The SANS Institute surveys its community for its "Best of the Year" awards, given to products and services that have successfully provided increases in both the effectiveness and efficiency of cybersecurity programs. In 2016, security operations professionals and security managers – the actual users of the products – awarded Palo Alto Networks Next-Generation Firewall.
This is a true honor for us. Read on for some of the key reasons customers love our next-generation firewall.
Focus on preventing cyberattacks: Everything we do is driven by our company mission to preserve our digital way of life by preventing successful cyberattacks. Palo Alto Networks Next-Generation Firewall is a core component of our automated and fully integrated Next-Generation Security Platform – the only platform of its kind.
Delivery of innovative features: We have consistently been the first to deliver innovative features that address real customer problems. Ten years ago, we delivered the first next-generation firewall and disrupted the market. Today we continue to lead the pack with innovations like the industry's first-ever bare metal advanced malware analysis environment, and a new approach to preventing credential-based attacks by preventing and neutralizing an attacker's ability to steal and use valid corporate credentials. Our innovative culture remains focused on solving the most challenging security problems.
Automation and resulting reduction of OpEx: Our next-generation firewalls automate security tasks that do not require human intervention, allowing customers to spend their valuable time on strategic initiatives.
Protection delivered everywhere: Whether our customers' data is on–premise or in the private or public cloud, we deliver the same level of protection everywhere. The physical firewalls and VM-Series virtual firewalls run the same PAN-OS operating system and are managed by the same Panorama central manager. Plus, our Next-Generation Security Platform protects your endpoints, and data in SaaS applications, via Traps and Aperture, respectively.
SANS Best of 2016 award is a reflection of our relentless focus on solving our customers' security problems, and we are extremely proud to be this year's recipient.
More Information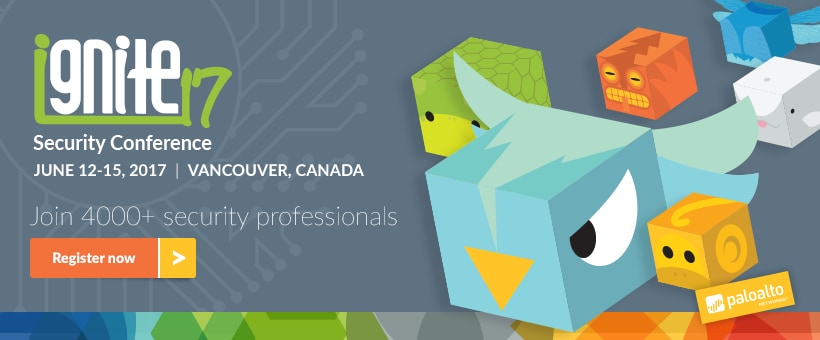 Ignite '17 Security Conference: Vancouver, BC June 12–15, 2017
Ignite '17 Security Conference is a live, four-day conference designed for today's security professionals. Hear from innovators and experts, gain real-world skills through hands-on sessions and interactive workshops, and find out how breach prevention is changing the security industry. Visit the Ignite website for more information on tracks, workshops and marquee sessions.