Palo Alto Networks is proud to sponsor the Women in Cybersecurity (WiCyS) conference, kicking off this Friday in Tucson, Arizona. This annual conference brings together women in cybersecurity from a variety of backgrounds – academia, industry and research – for a weekend of networking, mentoring and the opportunity to share their expertise in the field. Encouraging more women to pursue a career in cybersecurity is one of our imperatives as a company, and we're thrilled to return to WiCyS as a sponsor.
Our own Rinki Sethi, Senior Director of Security Operations and Strategy, is leading a distinguished speaker session on Saturday, April 1 at 10:45 a.m. titled "The Power of Perseverance: Embrace the Discomfort." During this session, Rinki will share personal experiences from her time in the workplace that have sharpened her leadership skills and helped shape her career as an information security leader. Rinki will discuss how embracing the unknown and tackling unfamiliar projects helped her discover her true passion in information security and ultimately advanced her career – even if it presented obstacles at the outset. If you're headed to Tucson this weekend, you won't want to miss this inspiring session!
Cyberthreat Intelligence Analyst Jen Miller-Osborn from Unit 42 and our Principal Information Security Engineer Prajakta Jagdale will also join Rinki, along with Bishop Fox partner Christie Terrill, in a panel session discussing why incident response is a dynamic and engaging career path within cybersecurity. Catch the panel, "Stories from the Battlefield: Cybersecurity Incident Response," on Friday, March 31 at 5:45 p.m.
At Palo Alto Networks, we are on a mission to maintain trust in the digital age by preventing successful cyberattacks. As part of this, we believe it's important to build a diverse team of cybersecurity leaders, and encourage more women and students to pursue a career in security.  We're looking forward to meeting you at WiCyS to share more about why a career in cybersecurity is both exciting and impactful.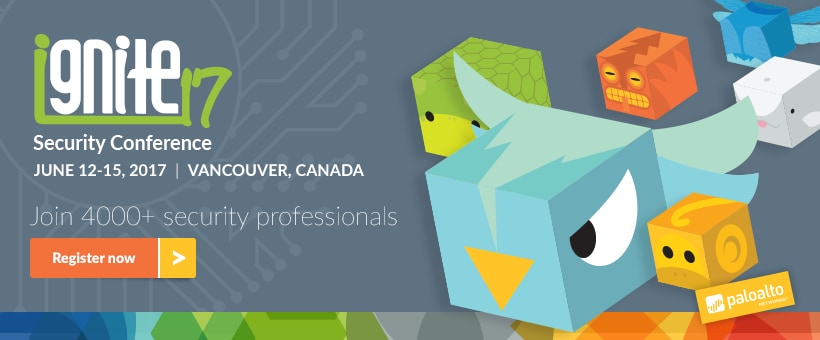 Ignite '17 Security Conference: Vancouver, BC June 12–15, 2017
Ignite '17 Security Conference is a live, four-day conference designed for today's security professionals. Hear from innovators and experts, gain real-world skills through hands-on sessions and interactive workshops, and find out how breach prevention is changing the security industry. Visit the Ignite website for more information on tracks, workshops and marquee sessions.