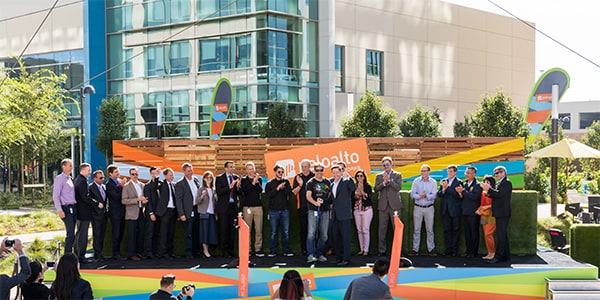 We are honored that so many elected officials and members of local Bay Area government were able to join Palo Alto Networks for the grand opening celebration of our new headquarters in Santa Clara, CA, this month. It was a great day full of discussion around community building, job creation and a commitment to collaboration. We are proud to have capacity for 5,000 local employees in our state-of-the-art facility and are committed to continuing our California-based manufacturing and order fulfillment.
The ceremony was truly a celebration of our talented workforce. Bringing together our employees, their families, and local leaders for this event certainly exhibited why Palo Alto Networks ranked #1 as the "best place to work" in the Bay Area by The San Francisco Business Times for 2016.
Our warmest thanks go out to Assemblymembers Kansen Chu, Marc Berman and Evan Low; San Jose Mayor Sam Liccardo, Santa Clara County Supervisor Ken Yeager, Santa Clara Vice Mayor Dominic Caserta, Sunnyvale Mayor Glenn Hendricks, Silicon Valley Leadership Group President and CEO Carl Guardino, and representatives from the Office of U.S. Senator Kamala Harris and the Office of Assemblymember Ash Kalra. We look forward to continuing to build a strong relationship with the community and working with these leaders on issues of importance to our workforce.
Check out some photos from our opening in Santa Clara, as well as a video recap of the event.