Cybersecurity experts from Palo Alto Networks and Girl Scouts of the USA (GSUSA) joined forces on Capitol Hill yesterday to highlight National Cyber Security Awareness Month (NCSAM) and a shared commitment to building a talent pipeline to tackle tomorrow's toughest cybersecurity challenges. Co-hosted by a bi-partisan group of members of Congress, the event aimed to inspire the next generation of cybersecurity professionals, and encourage a dialogue between the public and private sectors about how to cultivate a diverse pool of talent.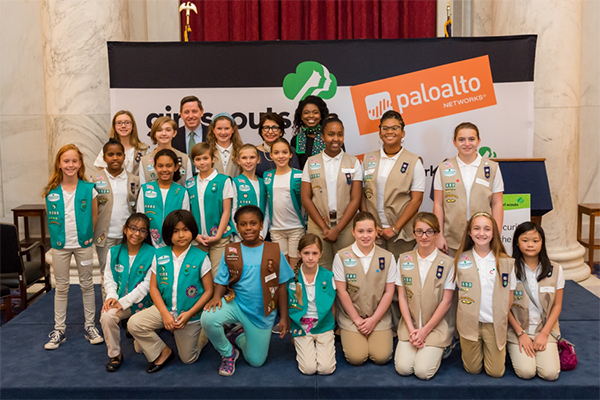 The day began with over 20 Girl Scouts participating in an activity led by our very own cybersecurity experts. Participants created a traceroute map to identify the path that packets of data take to get from a source computer to a destination, and they learned about how cybersecurity professionals can use this process to investigate the details of alleged cybercrimes.
Following the activity, U.S. Reps. Debbie Wasserman Schultz (D-FL) and Buddy Carter (R-GA) delivered remarks as part of a panel discussion, along with GSUSA CEO Sylvia Acevedo and me.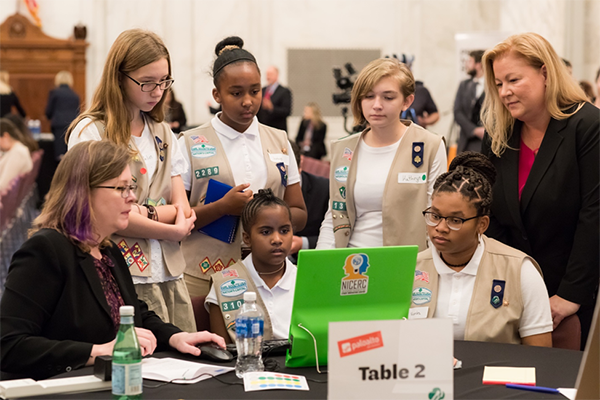 The panel discussion was led by Girl Scout alumna, Lauren Prox, a Gold Award Girl Scout, who is currently pursuing a degree in industrial engineering at Clemson University. The panel focused on ways in which government and industry might address the cyber workforce gap, and how to make cybersecurity a more alluring career option for young girls.
Following the official program, Sylvia and I spent the remainder of the day together meeting with influential members of the U.S. Senate and U.S. House of Representatives to bring awareness to the partnership and discuss innovative policies aimed at educating and training a diverse cybersecurity workforce for the future. Meetings with Sen. Mark Warner (D-VA), Sen. Tammy Duckworth (D-IL), Congressman Michael McCaul (R-TX), Congressman Mike Gallagher (R-WI), and Congressman John Ratcliffe (R-TX) also gave us an opportunity to ask for their support in promoting the curriculum throughout their respective states and districts.
I would like to thank GSUSA and our co-sponsors, Sen. Shelley Moore Capito (R-WV), Sen. Susan Collins (R-ME), Sen. Tammy Duckworth (D-IL), Sen. Jeanne Shaheen (D-NH), Rep. Susan Brooks (R-IN), Rep. Bonnie Watson Coleman (D-NJ), Rep. Cathy McMorris Rodgers (R-WA) and Rep. Debbie Wasserman Schultz (D-FL).
Learn more about our partnership with GSUSA, how they are transforming today's girls into tomorrow's leaders, and how to volunteer, reconnect, donate, or join at girlscouts.org.