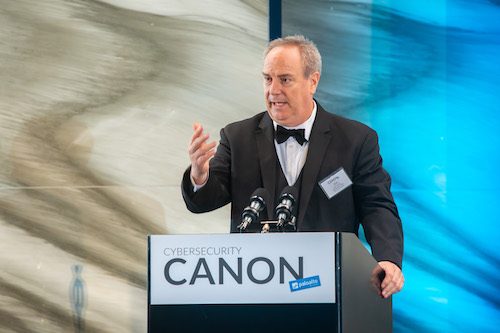 Last week, Palo Alto Networks hosted the sixth annual Cybersecurity Canon Hall of Fame Awards at the Watergate Hotel in Washington, D.C. The Cybersecurity Canon Project is a network defender community effort to identify the must-read books in the cybersecurity space. It is set up like the Rock and Roll Hall of Fame in that a committee of network defenders read the books and decide which ones should be candidates, and which ones should be inducted into the Hall of Fame.
At this year's awards ceremony, the committee inducted two authors into the Lifetime Achievement Hall of Fame: Neal Stephenson and Bruce Schneier. Each author had so many books on the candidate list that the selection committee could not pick just one to induct into the Hall of Fame. The unanimous committee consensus was to recognize these two authors as lifetime achievers to the Cybersecurity Canon Project and international treasures to the network defender community.
The committee also inducted four new books into the Hall of Fame:
– "Security Engineering: A Guide to Building Dependable Distributed Systems," by Ross Anderson
– "Practical Malware Analysis: The Hands-On Guide to Dissecting Malicious Software," by Michael Sikorski and Andrew Honig
– "The Cathedral & the Bazaar," by Eric S. Raymond
– "American Spies: Modern Surveillance, Why You Should Care, and What to Do About It," by Jennifer Stisa Granick
Attendees of the gala were local security luminaries and cybersecurity students from the tri-state area. The awards ceremony was a formal affair where I wore a tux and handed out Academy Award-style trophies to the inducted authors. Afterward, the authors signed their books and gave them to the students.
Below is a complete list of winning authors and books, along with links to associated book reviews.
"Cryptonomicon," by Neal Stephenson | Book Review
"Reamde," by Neal Stephenson  | Book Review
"Snow Crash," by Neal Stephenson | Book Review
"Click Here to Kill Everybody: Security and Survival in a Hyper-connected World," by Bruce Schneier | Book Review
"Data and Goliath: The Hidden Battles to Collect Your Data and Control Your World," by Bruce Schneier | Book Review
"Secrets and Lies: Digital Security in a Networked World," by Bruce Schneier | Book Review
"Security Engineering: A Guide to Building Dependable Distributed Systems," by Ross Anderson | Book Review
"Practical Malware Analysis: The Hands-On Guide to Dissecting Malicious Software," by Michael Sikorski and Andrew Honig | Book Review
"The Cathedral & the Bazaar," by Eric S. Raymond | Book Review
"American Spies: Modern Surveillance, Why You Should Care, and What to Do About It," by Jennifer Stisa Granick | Book Review