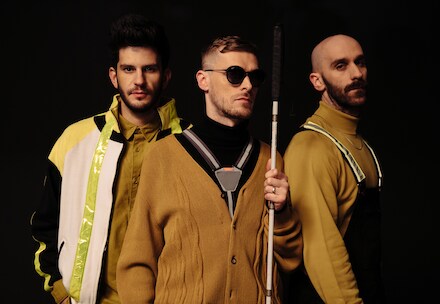 Best known for hits like "Renegades" and "Unsteady," X Ambassadors will be performing at Palo Alto Networks Ignite Cybersecurity Conference on Wednesday, June 5th at the Palmer Events Center in Austin. In this Q&A with drummer Adam Levin, get to know a little bit more about the band, including their connection to Game of Thrones and their favorite thing about Austin.
Q: What can we expect from your performance at Ignite?
A: We are so excited to come play at Ignite.  The people attending can expect a high energy show.  We're also going to be playing some new songs!
Q: For our blog readers who follow the cybersecurity industry, can you tell us if your views on digital security have changed as the impact of cyberattacks has grown over the past decade – on the entertainment industry and beyond?
A: I've seen cyberattacks happen in the past that greatly affect the music and entertainment industry. Whether it's attacks on peoples' iPhone/cloud accounts or music/films getting leaked early. It's a scary thing. My views haven't really changed much. I think it's as important as ever to keep things secure.
Q: What's your favorite thing about Austin, Texas?
A: Our favorite thing about Austin is the food! We're going to eat all the BBQ and tacos we can stomach.
Q: You recently worked on the Game of Thrones "For the Throne" soundtrack with a number of other artists. How did you get involved in this project?
A: We got involved in the project through Ricky Reed, who produced our new album "Orion."  Columbia records, who released the soundtrack, heard our song "Baptize Me" and loved it for the soundtrack. That lead to Sam writing seven other songs for the record. We're so excited to be involved.
Q: As musicians, how do you stay true to your roots while staying relevant and innovative? How is your new album different than what you have produced in the past?
A: Staying true to our roots and innovating are the most important things to us as artists. We write a lot about where we come from, and our sound is deeply rooted in the music we grew up listening to. We continue to innovate and never want to just make the same album twice, or put on a show/tour that is less captivating than the previous tour. We are all about innovation.
Q: What does disruption mean to you? Is it something you have sought to cultivate in your music and performances?
A: Disruption means a lot to us. We see it as a positive thing. In any paradigm change, disruption is the first step. People initially see it as a bad thing, before they recognize it as progress. We fall victim to that all the time, but always keep that in mind. Being uncomfortable and disrupting the current paradigm in music is extremely important.
Video published on X Ambassadors YouTube Channel.
Want to see X Ambassadors live in Austin? There's still time to register for Ignite '19. Join us and be prepared to get your hands on the most advanced security technology and see firsthand what it can do for you.