Today's enterprises continue to move to the cloud to power innovation and scale their businesses to heights never before thought possible. With this shift and rise in adoption of cloud services and cloud native architectures also comes risks and business challenges.
Security teams need to ensure that cloud environments are configured properly as any misconfiguration could leak data or provide a target for attackers. These teams also need to work with compliance and audit teams to achieve and maintain compliance, which is a challenge in highly dynamic cloud environments. Additionally, cloud environments and cloud native applications need to be protected, both at runtime and across the application lifecycle to address vulnerabilities and misconfigurations.
Measuring the ROI of Prisma Cloud, Our Cloud Native Security Platform
Palo Alto Networks commissioned Forrester Consulting to conduct a Total Economic Impact™ (TEI) study and examine the potential return on investment (ROI) enterprises may realize by deploying Prisma Cloud. Forrester interviewed five customers with experience using Prisma Cloud to understand the benefits and value of their investment and use of our Cloud-Native Security Platform.
These customers shared that prior solutions "yielded limited success, leaving customers with little to no cloud security posture visibility, siloed developer and security processes and teams, and poor compliance and reporting." With Prisma Cloud, the Forrester TEI study showed customers were able to dramatically change how they secured their cloud environments and cloud native applications.
See the Results With Prisma Cloud
276% ROI Over Three Years
By deploying Prisma Cloud, organizations were able to improve security outcomes, improve the ability to fix vulnerabilities and reduce time spent on managing compliance while lowering the likelihood of material data breaches. Overall, this led to 276% ROI over three years with $5.81M in net present value (NPV).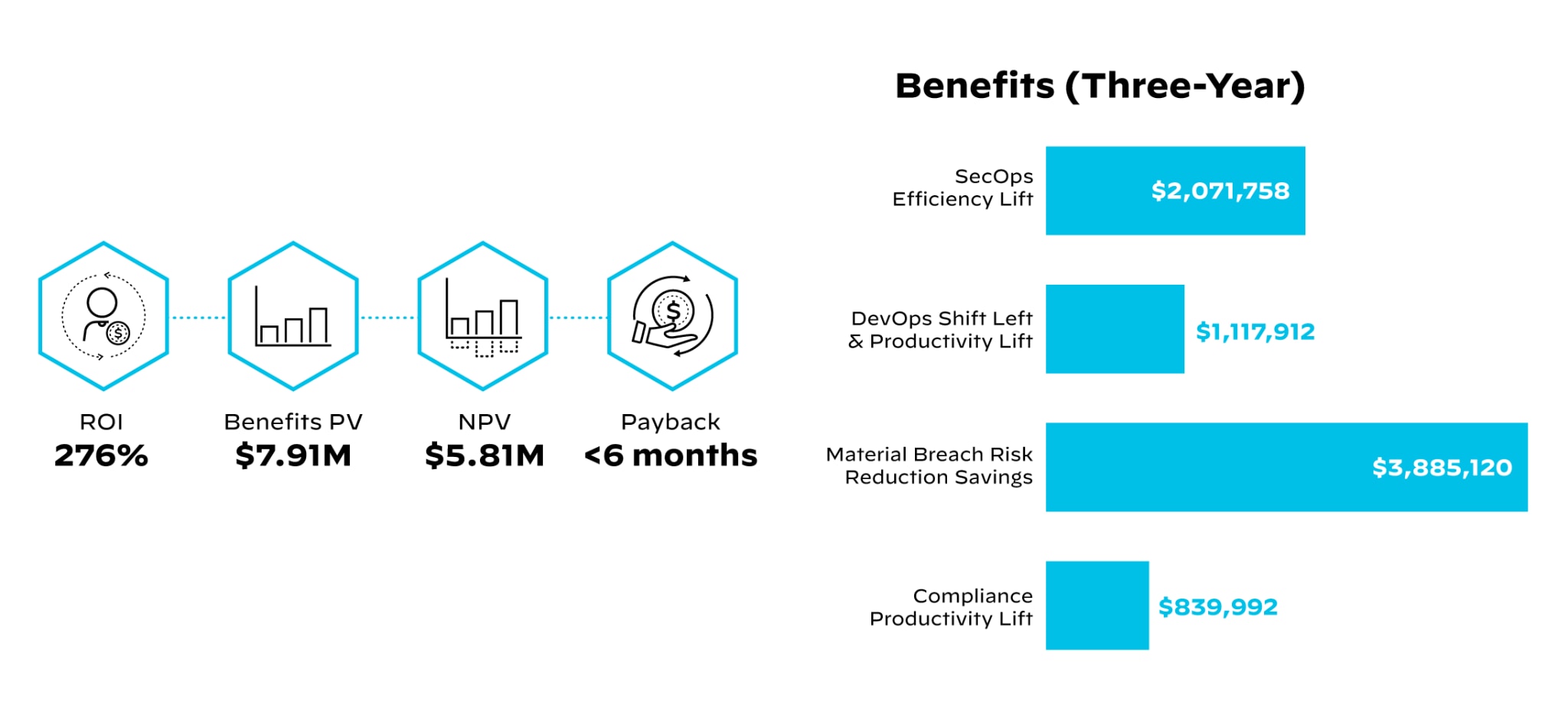 Read a complimentary copy of the 2021 Total Economic Impact Study of Prisma Cloud.
Key quantified benefits for security, compliance and DevOps teams:
44% improvement in SecOps effort to investigate incidents: With improved visibility into cloud security posture, improved risk management and ability to address alerts, Prisma Cloud improves SecOps efficiency with a reduction in time spent, configuring and enforcing policies by 80%.
60% improvement in DevOps efforts fixing vulnerabilities and misconfigurations: By fostering collaboration between DevOps and SecOps and integrating with common developer and DevOps tools, teams are able to fix vulnerabilities and address misconfigurations earlier in the software development life cycle (SDLC).
27% in material data breach reduction on cloud workloads: Prisma Cloud reduces the probability of material security breaches that lead to the loss or compromise of data. This helps organizations avoid associated internal and external costs. Avoided costs include business user downtime, costs of remediation, brand rebuilding, customer resolution and all other external-facing data breach costs.
90% reduction in time to create, review and consume compliance reporting, and up to 64% improved audit efficiency: Compliance is a key requirement that organizations need to address as they move to and scale on the cloud. Prisma Cloud combines pre-build compliance frameworks, as well as real-time dashboards to dramatically improve compliance outcomes for enterprises.
By supporting the world's five largest clouds (Alibaba Cloud, AWS, Google Cloud, Microsoft Azure and Oracle Cloud Infrastructure), Prisma Cloud delivers coverage for all the leading cloud environments that enterprises are using. This allows teams to identify and prevent misconfigurations; detect and respond to threats; and maintain compliance. Then, with a unified agent framework, Prisma Cloud delivers protection for hosts, containers and serverless applications across the entire application lifecycle.
Download the Forrester TEI Study to Learn More
To learn more about the incredible impact that Prisma Cloud delivers for organizations around the world, download the 2021 Total Economic Impact Study.
Citation: The Total Economic Impact™ of Palo Alto Networks Prisma Cloud, a commissioned study conducted by Forrester Consulting on behalf of Palo Alto Networks, June 2021.