The proof is in for CISOs, CFOs and network security pros. Palo Alto Networks VM-Series virtual firewalls pay for themselves, and now you can get all the details about significant 115% return on investment (ROI) over three years with a six-month payback period in a just-released Forrester Consulting study. You'll discover how these virtualized instances of our ML-Powered Next-Generation Firewalls (NGFWs) can provide savings measured in millions of dollars over a short period of time.
This in-depth analysis of security efficiency and cost-effectiveness is meant for all enterprise stakeholders concerned about safeguarding digital transformation and cloud migration efforts. Detailed financial modeling charts explain how the VM-Series provides quantifiable value by substantially increasing security capabilities and streamlining operations.
See Cost Avoidance Measured in Seven Figures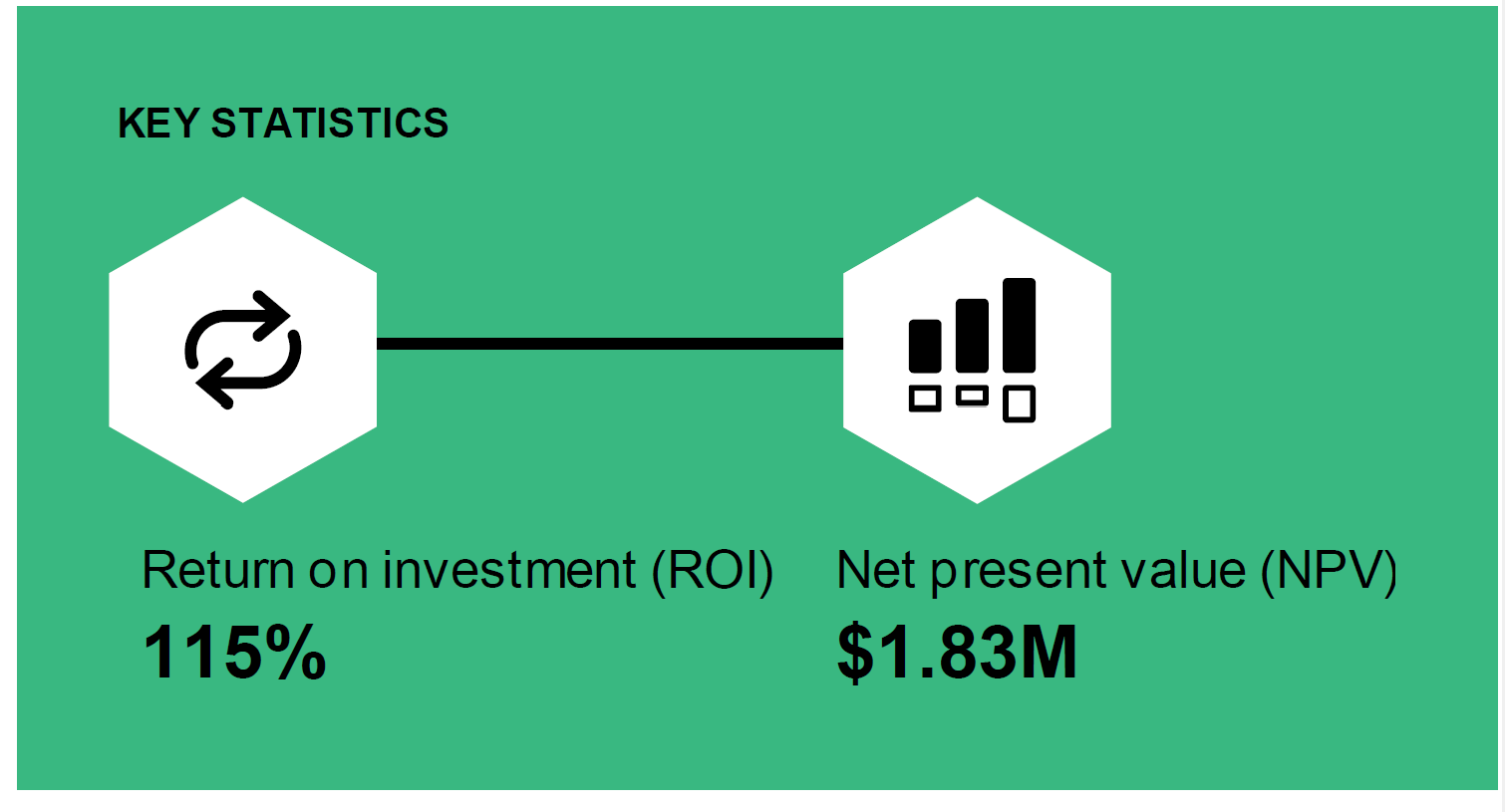 Extensive surveying, in-depth interviews, and deep financial analysis paints a picture of security that pays off. To understand real-world challenges and needs, Forrester Consulting used this study's research to build a model of a composite organization, which obtains a net present value (NPV) of $1.83 million over three years by deploying VM-Series across multiple on-prem and public cloud environments to secure both north-south and east-west traffic.
These benefits stem from significant operational efficiencies and exceptional network security capabilities. VM-Series firewalls offer a broad range of capabilities that transcend today's network security challenges across public and private clouds, virtualized data centers and software-defined branch locations.
High-Performance Security Slices Fixed Costs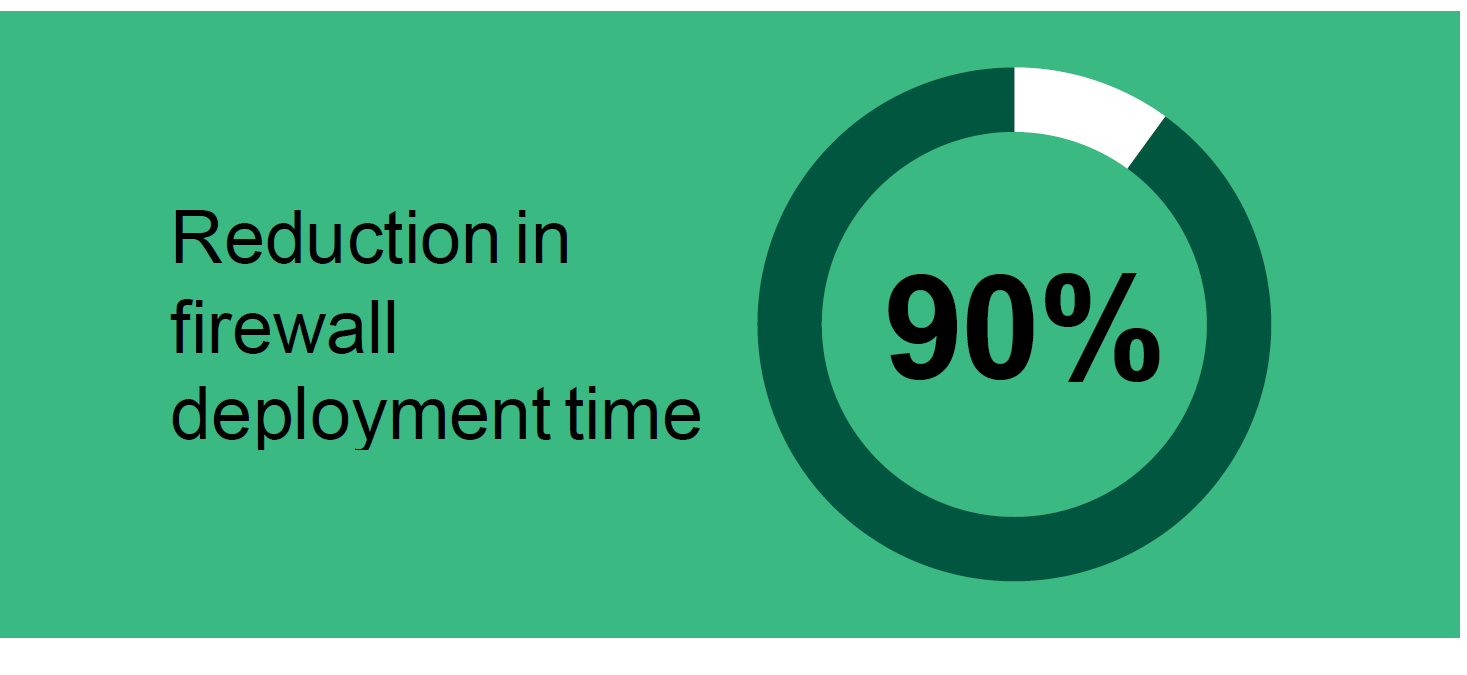 Advanced security capabilities are a significant factor in the financial value of VM-Series virtual firewalls. As the study details, organizations using the virtualized NGFW were able to achieve:
90% reduction in time required to deploy firewalls, as well as improved network and security team efficiencies by 80%.
30% reduction in time to achieve proper security posture, which gave security teams a head start on delivering a Zero Trust Enterprise (something that's not possible with point solutions).
20% decrease of data breach likelihood after three years, which further allowed organizations to deliver the Zero Trust Enterprise model and apply consistent security policies across the entire organization.
18% reduction in the number of security incidents requiring manual investigation and a subsequent 25% decrease in mean-time-to-resolution (MTTR).
After investment in VM-Series virtual firewalls (designed to protect against up to 95% of unknown file and web-based threats instantly) organizations were able to fully address the network security challenges of their hybrid and multi-cloud environments. Security teams could easily deploy advanced threat prevention controls and define, enforce and manage consistent security policies from a single console. With significantly improved visibility, they were able to gain precise control over inbound, outbound and east-west traffic to greatly reduce attack surfaces.
Operational Efficiencies Cover the Entire Organization
Security is only as good as its ability to cover the entire enterprise. Forrester discovered significant efficiencies with VM-Series firewalls. These benefits were not just for network security teams, but also for their colleagues in other business areas. As you'll read in the study, those benefits included:
67% decrease in downtime per employee, so only 6% of an organization's employees experience a downtime event, compared to 18% in a legacy state.
45% reduction in downtime length: Downtime events at the composite organization historically lasted an average of 4.5 hours. After deploying VM-Series firewalls, this average declines by two hours.
The VM-Series virtual form-factor also allowed organizations the flexibility to automate firewall deployment and provisioning, and scale with demand, which eliminated numerous over-provisioning costs.
Make Securing Digital Transformation Seamless
Find out why 92% of Forrester survey respondents said VM-Series virtual firewalls and accompanying cloud-delivered security services improved their organizations' management, admin and operation efforts on cybersecurity. Download the study and see for yourself, or ask us for a personalized VM-Series demo.