How Partners Are Creating Service Opportunities with Palo Alto Networks
In an ever-evolving threat landscape, organizations are challenged with securing their network to meet the needs of a much larger remote workforce. With worldwide security market growth, Palo Alto Networks partners have numerous opportunities specific to their relationship with us. Our new International Data Corporation (IDC) eBook provides insight into the value that partners derive from our relationship, products and services. It includes our partners' perspectives on their growth across the spectrum of services with deals involving our technology, from consulting and professional services to support and managed services. It also provides partners with a current view of the security market growth opportunities specific to their Palo Alto Networks relationship. 
Security Spending Is Growing Across IT Categories
While partners have diverse business models and strategies, they can address better end-customer security outcomes by prioritizing their relationship to services. End customers are moving to secure all aspects of their digitally transformed businesses and IT operations to cloud and hybrid cloud configurations. The increase in end-customer spending on security products and services makes our partner ecosystem more essential than ever and creates opportunities across the spectrum of IT products and services. One opportunity is the growth rates within the security services market.
Security services, a key attribute of partner value, are the largest part of the security market growth, with close to $60 billion in spending in 2020, or 45% of the total. Our partners prioritize software and services (i.e., selling and implementing on-premises and virtual firewalls), with growth coming from security cloud, subscriptions and managed services.

Security services represent a growth and profitability driver for partners, contributing to customer lifetime value. Security deals pull in elements outside of the Palo Alto Networks and partner offerings, driving partner revenue.
Palo Alto Networks Partners Are Benefiting from Security Market Growth
The security market growth rates reveal a compelling story, embracing engagement with the partner ecosystem. The partners investing in Palo Alto Networks products are experiencing healthy revenue growth. While Palo Alto Networks partners expected growth rates at 19% for 2021, partners expected a much higher growth rate of 30% in deals specific to Palo Alto Networks products and services.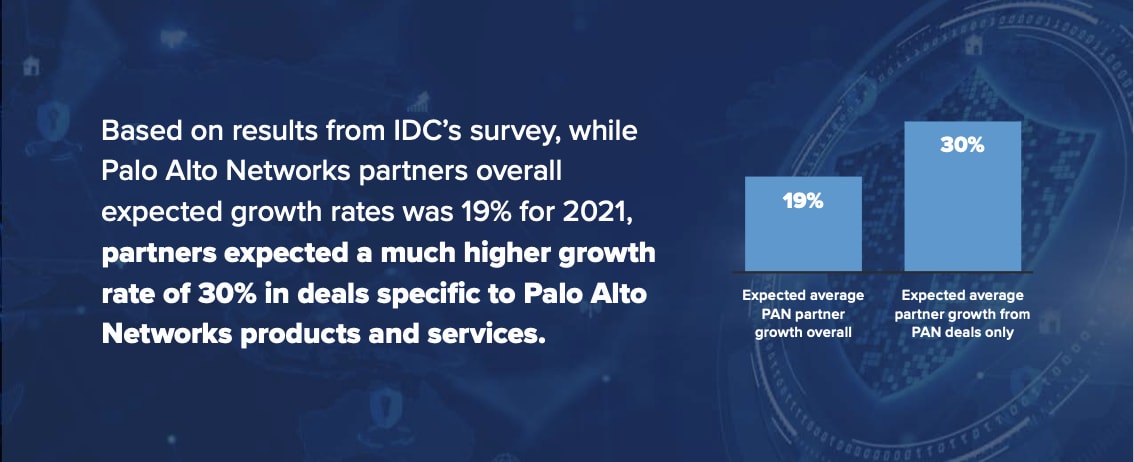 Our partners experience a high multiplier and high growth in Palo Alto Networks deals because of the breadth of services they provide to customers, which provide additional drivers for partner revenue. Our partners can increase their value by wrapping services and software around our technology, providing better end-customer outcomes and leading to accelerators in their businesses.
Partners realize accelerated value by engaging with us and developing software and services around our technology. The IDC estimates that for every $1 of revenue we generate, our partners generate $5.90 from services and software integrated with our technology. As the market's opportunity for partner security services and software increases, the multiplier is expected to grow to $6.50 in 2025.
Download the eBook today!
Read our IDC eBook to discover how our partners derive value by engaging with Palo Alto Networks services and products. Learn how our partners capitalize on new opportunities, deliver coveted business outcomes, and create an outstanding partner experience by aligning with our ecosystem.