Ignite '22 Registration Is Now Open
Securing our digital future against cyberthreats has never been more pressing. Collectively, we have a huge opportunity to do it right. Our mission at Palo Alto Networks is to make sure each day is safer than the one before. But we can't achieve this mission on our own. We are ready to partner with all cybersecurity leaders, practitioners and strategists to build the right security architectures of the future. We will be at Ignite '22 with our innovation, insights, strategies and training. We invite you to attend Ignite '22 with an open mind and an aspiration to build what's next.
This December, we're bringing the Ignite conference to Las Vegas, Nevada. Full of technical sessions, hands-on workshops and expert speakers, here are three reasons why you should attend Ignite '22 this December.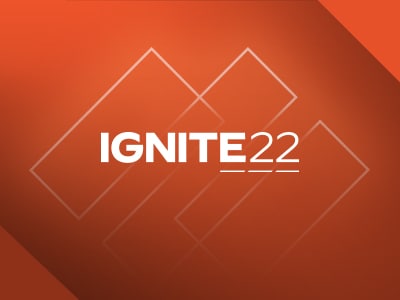 Networking
Ignite '22 is a fantastic opportunity to expand your network, with more than 2,500 security experts in attendance and plenty of workshops and sessions in which to connect.
Ignite '22 is not only a security conference for the future, it is also a place where cybersecurity leaders and professionals can get together to discuss and share their experiences on how to implement and handle external influencers, such as GDPR.
Learning & Certifications
We will be featuring over 100 track sessions, covering everything from security operations, network security, cloud-delivered security services, cloud-native application protection, endpoint security, secure access service edge and threat intel, as well as incident response services. You will also have a chance to prove your skills and join an elite group of skilled professionals by taking one of six Palo Alto Networks accreditation exams:
Prisma Certified Cloud Security Engineer (PCCSE)
Palo Alto Networks Certified Cybersecurity Entry-Level Technician (PCCET)
Palo Alto Networks Certified Network Security Engineer (PCNSE)
Palo Alto Networks Certified Network Security Administrator (PCNSA)
Palo Alto Networks Certified Detection and Remediation Analyst (PCDRA)
Palo Alto Networks Certified Security Automation Engineer (PCSAE)
Cyber Range
Cyber Range sessions provide an interactive workshop of best practices, using actual threats to keep your teams razor sharp. Equal parts cross-disciplinary training and a highly immersive, hands-on platform, Cyber Range is an exciting and fun way for you and your frontline people to experience, configure and test the Palo Alto Networks platforms.
Track Sessions
Our vision is a world where each day is safer and more secure than the one before.
Cyber threat actors are watching. Legacy security can't stop them.
We'll share the tools and resources you need to be prepared now and for what's next. Explore the Ignite '22 tracks below!
Network Security

(Next-Gen Firewall)

Cloud-Delivered Security Services (CDSS)
Secure Access Service Edge (SASE)
Cloud-Native Application Protection

(Prisma Cloud)

Security Operations

(Cortex)

Endpoint Security

(Cortex XDR)

Threat Intel & Incident Response Services

(Unit 42)

Simplifying Security (Cross Portfolio)
The Cybersecurity Event You've Waited for All Year!
See what Ignite '22 is all about. Make new friends and connections while learning first-hand about the latest innovation, insights, strategies and training from Palo Alto Networks. We invite you to be there with an open mind and an aspiration to build what's next.