Multi-gig-throughput firewalls to secure your internet edge
PA-3200 Series next-generation firewall appliances help secure your organization through the safe enablement of applications, users and content at high throughput speeds.
Predictable performance, broad threat coverage
The PA-3200 Series provides dedicated, programmable hardware resources for networking, security, signature matching and management functions, ensuring predictable performance. The appliances deliver high decryption throughput and SSL session capacity so you can secure encrypted traffic without slowing down your business, simplify your deployments, and uncover and stop hidden threats without compromising privacy.
PA-3200 Series architecture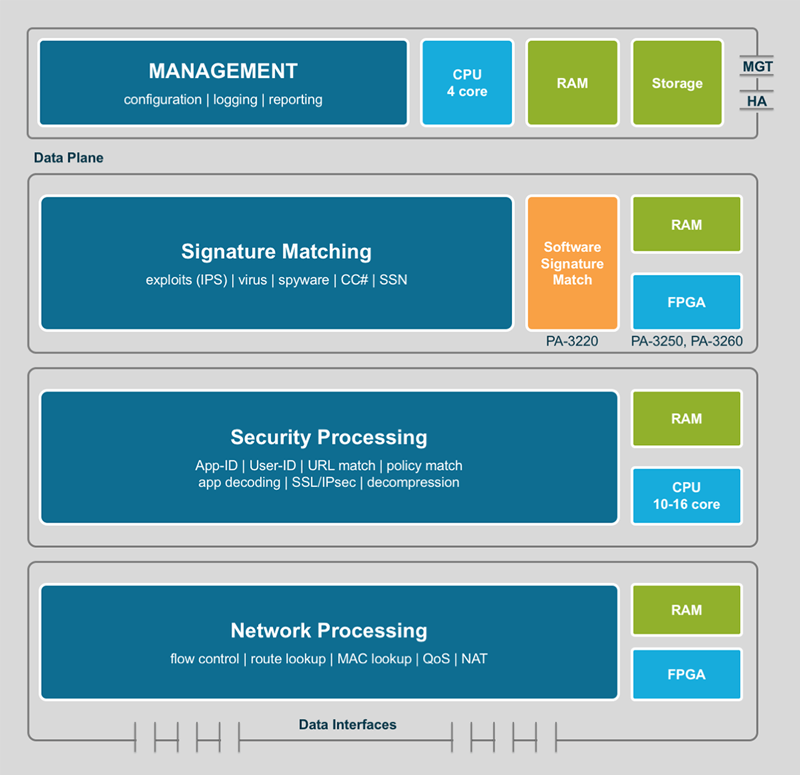 Integrate network security without holding back the business
PA-3200 Series appliances secure your business with a prevention-focused architecture and integrated innovations that are easy to deploy and use – so you can cut risks and speed growth at the same time.
The PA-3200 Series family
1. Firewall throughput measured with App-ID and logging enabled utilizing 64KB HTTP/appmix transactions
2. Threat Prevention throughput measured with App-ID, IPS, antivirus, anti-spyware, WildFire and logging enabled utilizing 64KB HTTP/appmix transactions
3. IPsec VPN throughput measured with 64KB HTTP transactions
4. New sessions per second measured with application-override utilizing 1-byte HTTP transactions
5. Adding virtual systems to the base quantity requires a separately purchased license
Request your Security Lifecycle Review (SLR)
The SLR examines your network traffic and generates a comprehensive report unique to your organization to help you discover the applications and threats exposing vulnerabilities in your security posture. Request now
Are you ready to take the
Ultimate Test Drive?
If you're ready to take the test drive, pick the best time for you below!
All times are displayed in Pacific time.