Secure citizen data, government services and operations
Provincial, state and local agencies partner with Palo Alto Networks to prevent successful cyberattacks, safeguard sensitive data and optimize security operations.
Stop ransomware in its tracks
Prevent attacks that target operations and data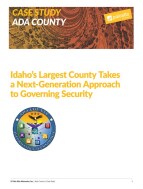 Ada County relies on consistent and automated threat prevention in the Security Operating Platform to secure its offices, E911 network, workstations, servers and virtual desktops, as well as manage access to county services by trusted outside agencies. The county protects information and employees by enabling application and web access by job function, and even creates temporary policies for special investigations.
Secure US Medicaid and other healthcare programs in the cloud
In the US, states are modernizing their Medicaid Management Information Systems, or MMIS. Learn how to protect the valuable data of Medicaid beneficiaries, providers, and workers.
The Centers for Medicaid and Medicare Services, or CMS, offers guidance in Minimum Acceptable Risk Standards for Exchanges, or MARS-E, for securing information systems, health data, and personally identifiable information.
Meet cybersecurity benchmarks with a trusted partner