Secure citizen data, government services and operations
Provincial, state and local agencies worldwide count on Palo Alto Networks to prevent successful cyberattacks, safeguard classified and sensitive data, and optimize security operations.
"We have such a broad range of security needs, yet the Palo Alto Networks platform allows me to manage them with simplicity and efficiency. With the types of advanced threats we face today, I'm not sure we could provide the necessary protections without it." – Bret Lopeman, IT security engineer, Ada County
Stop ransomware in its tracks
Prevent attacks that target operations and data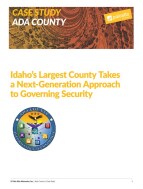 Ada County relies on consistent and automated threat prevention in the Security Operating Platform to secure its offices, E911 network, workstations, servers and virtual desktops, as well as manage access to county services by trusted outside agencies. The county protects information and employees by enabling application and web access by job function, and even creates temporary policies for special investigations.
Simplify, strengthen security with a platform approach
Enable shared services and cloud-first initiatives
Securing Medicaid in the Cloud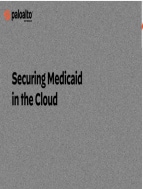 In the US, the Centers for Medicaid and Medicare Services, or CMS, is encouraging states to modernize their Medicaid Management Information Systems or MMIS. These systems have run on mainframes for 40+ years, but new versions are now being built in the cloud. Of course, the expectation is that cloud-based MMIS will be properly secured. See how to protect Medicaid beneficiaries, Medicaid providers, and government workers.

View the e-Book or the Infographic
Optimize security operations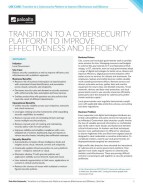 A local government adopted the Security Operating Platform over time to improve productivity, reduce the risk of data breaches, and stop a million threats a month from impacting city operations. Get insights into simplifying management, eliminating the complexity of point products, and integrating threat intelligence to identify and prevent targeted government attacks.
Certifications and performance benchmarks
Palo Alto Networks network security solutions have performed consistently against a variety of rigorous evaluations. We are committed to the continued
certification
and performance evaluation of our products.