Optimize health outcomes and the patient experience
More than 2,000 healthcare customers around the world rely on Palo Alto Networks® to prevent successful cyberattacks, protect patient data, deliver a superb experience and streamline security operations.
Security reference blueprint for healthcare services
Prevent cyberattacks that impact patient safety or operations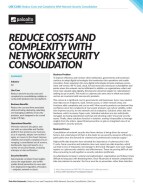 Optimize security operations
Efficiently support every aspect of IT security – from urgent care to the parking garage. Eliminate point products focused on single threat vectors, engage automation to quickly counter new threats, reduce the scope of compliance and gain real-time insight into network traffic.
Healthcare: Hot target for cyberattacks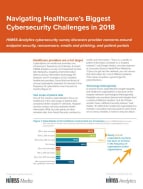 Protected health information is a valuable commodity that cyber adversaries can monetize in multiple ways, according to a new report from HIMSS Media. Among the findings:
Nearly two-thirds of respondents say the frequency of cyberattacks on their organizations has increased.
Almost 90 percent of survey respondents say their organization was the target of an attempted ransomware attack within the past year.
38 percent of U.S. hospitals fell victim to a ransomware attack in 2017.