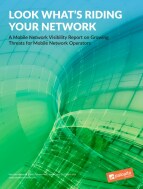 A massive transformation is underway in service provider networks. Mobile and fixed network convergence, migrations to 5G, and emerging IoT services all create unprecedented opportunities for service providers – if their networks can deliver secure and reliable services.

However, service providers can no longer rely on legacy security mechanisms. Traditional tools do not deliver the visibility into data and traffic across networks, endpoints and clouds, and all too often they cannot harness automation and analytics. A new approach is needed.

Palo Alto Networks® delivers what service providers need to fundamentally transform their networks and operations – so they can protect their networks and customers, manage new risks, and take full advantage of new opportunities.