Customer Spotlight is our regular look at how various customers are using the Palo Alto Networks approach to enterprise security to solve their infrastructure challenges. Read more customer stories here.
Ignite 2014 is a few days away, and you've been reading a lot about the sessions, speakers and sponsors we have lined up for this year's conference. But what's especially exciting is that more than half of this year's Ignite sessions will showcase how Palo Alto Networks customers are using a next-generation platform to solve their biggest security challenges.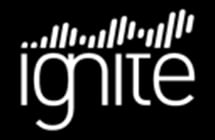 Joining us at Ignite are customer speakers representing a wide range of expertise, companies and industries, including:
Government: Center for Cyber Security Studies, United States Naval Academy and ISA99 Committee
Retail: eBay
Financial Services: Exeter Finance, Raymond James
Pharmaceutical/Life Sciences: Battelle Memorial Institute
Healthcare: Health Information Technology Services of Nova Scotia, Revera Inc., University of Oklahoma Health Sciences Center
Education: Waterloo Region District School Board, BYU Hawaii, McLean County Unified School District
Manufacturing: Motorola Solutions, ITT Corporation
We want to thank all of our customer speakers for agreeing to join us in Las Vegas, and we're looking forward to a great week of discussions!