In just a few more weeks we'll be able to share registration details for Ignite 2015, which returns to The Cosmopolitan in Las Vegas March 30-April 1, 2015. (Save the date!)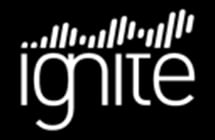 In the meantime, we invite you to revisit the Ignite 2014 keynote address from Palo Alto Networks CEO Mark McLaughlin -- or perhaps to check it out for the first time if you couldn't join us in Vegas this past year.
As Mark explains, a true next-generation enterprise security platform is one that's highly integrated and highly automated. Watch Mark as he walks through this concept and how the Palo Alto Networks platform combines next-generation firewall technology, a true threat intelligence cloud and advanced endpoint protection.
As a reminder, you can check out three days' worth of Ignite 2014 recaps here. And if you've attended Ignite in the past, you're eligible to join the official Ignite Alumni Network, where you'll have exclusive access to sessions, presentations and other resources. Read full details of the Alumni Network here.