Here is the top Palo Alto Networks news from this past week.
Palo Alto Networks researchers analyze Anunak & Chthonic malicious campaigns, and possible prevention using Traps, our Advanced Endpoint Protection solution.
Check out this deep dive analysis of Android system service vulnerability CVE-2014-7911 & exploitation.
We examine the methods of operation for common ransomware samples and a possible solution using Advanced Endpoint Protection that, based on our lab tests, would have blocked the ransomware families and prevented malicious activity.
Our mission at this year's Ignite Conference is to empower you with knowledge you can rely on to separate fact from fiction, so we've called in surprise experts to assist at the Ignite evening event happening March 31st. Find out more here.

The Ignite deadline for the Call for Papers is January 18! If you've got strong content to share on "war stories" of enterprise security deployment, new threat research, technical best practices, or a detailed how-to, we want to hear from you – submit before next Sunday.

Find out how to vote on which books you want to see join Parmy Olson's We Are Anonymous in the Cybersecurity Canon. Don't see your favorite cybersecurity book on the candidate list? You should submit it for consideration.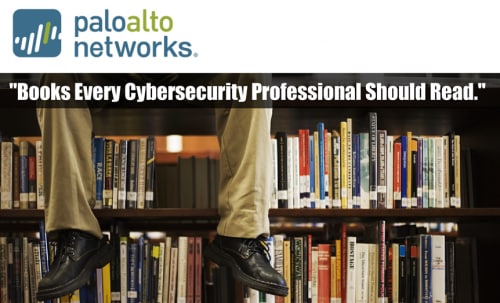 Head here to see a document highlighting survey results from Forrester Research that illustrate the total economic impact (TEI) of an Enterprise Security Platform and its fundamental advantages over a collection of point products.
Tips and tricks from the Palo Alto Networks technical documentations team on PAN-OS 6.1, including the Administrator's Guide and 9 interesting features & topics to check out.
Here are upcoming events around the world that you should know about:
1月14日(水)製品実感トレーニング(名古屋) [Japanese]
When: January 14, 2015 1:30 PM - 5:00 PM GMT+9:00
Where: 名古屋市中村区
When: January 14, 2015 9:00 AM - 10:00 AM PST
Where: Online
Palo Alto's Next-Generation Security - Ultimate Test Drive
When: January 14, 2015 9:00 AM - 1:00 PM EST
Where: Hanover, MD
When: January 14, 2015 12:00 PM - 5:30 PM GMT
Where: London
Demo - näe mitä seuraavan sukupolven tietoturva ta [Finnish]
When: January 15, 2015 1:00 PM - 2:00 PM EET
Where: Online
When: January 15, 2015 12:00 PM - 5:30 PM GMT
Where: London
1月16日(金)製品実感トレーニング [Japanese]
When: January 16, 2015 1:30 PM - 5:00 PM GMT+9:00
Where: 千代田区
When: January 20, 2015 11:00 AM - 12:00 PM GMT+4:00
Where: Online
1月21日(水)製品導入・運用支援トレーニング [Japanese]
When: January 21, 2015 1:30 PM - 5:00 PM GMT+9:00
Where: 千代田区
Next-Generation Firewall Live Demo Webinar [Dutch]
When: January 21, 2015 1:00 PM - 2:00 PM CET
Where: Online
When: January 21, 2015 9:00 AM - 10:00 AM PST
Where: Online
Threat Prevention Ultimate Test Drive
When: January 21, 2015 10:00 AM - 1:00 PM GMT
Where: London
Financial Services focused happy hour event
When: January 22, 2015 4:00 PM - 6:00 PM EST
Where: New York, NY
You Can Have It All - Transforming the Virtualized Datacenter
When: January 22, 2015 11:00 AM - 12:00 PM PST
Where: Online
1月23日(金)NextWave Summit [Japanese]
When: January 23, 2015 2:30 PM - 7:30 PM GMT+9:00
Where: 千代田区
1月23日(金)製品体感セミナー [Japanese]
When: January 23, 2015 1:30 PM - 5:00 PM GMT+9:00
Where: 千代田区