Check out the top Palo Alto Networks news from this past week.
This week at HQ we hosted the co-founders of the Cyber Threat Alliance for a live discussion on CNBC's Squawk Alley that was squarely focused on how collaboration between security companies is helping customers in the ongoing battle against cyberattackers.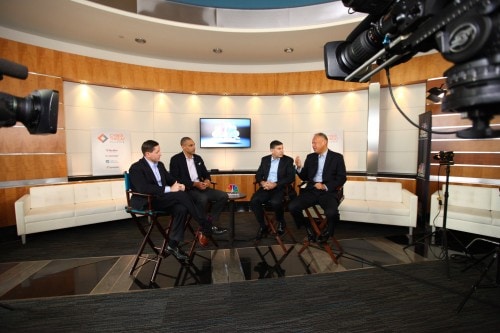 Unit 42's Ryan Olson explains Dridex, the latest version of the Bugat/Feodo/Cridex banking Trojan.
Did you hear? Special guests Jamie Hyneman and Adam Savage, special effects experts and co-hosts of MythBusters, will be at the Ignite Conference! Find out more.

The Ignite deadline for the Call for Papers is tomorrow! Have you submitted yet for your chance to have your content showcased at the only 'all tech, all the time' conference of its kind?

Read Rick Howard's review of Rich Baich's Winning as a CISO in this entry to the Cybersecurity Canon.
Find out how to vote on which books you want to see join Parmy Olson's We Are Anonymous in the Cybersecurity Canon. Don't see your favorite cybersecurity book on the candidate list? You should submit it for consideration.
Firewall Pro-Tip from the Palo Alto Networks Technical Publications team: enforcing safe search without blocking search results.
Isabelle Dumont explained how the Palo Alto Networks Enterprise Security Platform helps raise the bar for protection against cyberattacks at the Point-of-Sale (POS).
Ivan Pepelnjak interviewed Christer Swartz on networking priorities and how Palo Alto Networks virtual firewalls can be deployed into large-scale network architectures, without adding unnecessary complexity.
We are honored to be named finalist in three SC Magazine award categories, including Best Enterprise Security Solution for our Enterprise Security Platform. Check out the other two categories here.
Here are upcoming events around the world that you should know about:
When: January 20, 2015 11:00 AM - 12:00 PM GMT+4:00
Where: Online
1月21日(水)製品導入・運用支援トレーニング [Japanese]
When: January 21, 2015 1:30 PM - 5:00 PM GMT+9:00
Where: 千代田区
Next-Generation Firewall Live Demo Webinar [Dutch]
When: January 21, 2015 1:00 PM - 2:00 PM CET
Where: Online
When: January 21, 2015 9:00 AM - 10:00 AM PST
Where: Online
Threat Prevention Ultimate Test Drive
When: January 21, 2015 10:00 AM - 1:00 PM GMT
Where: London
Financial Services focused happy hour event
When: January 22, 2015 4:00 PM - 6:00 PM EST
Where: New York, NY
You Can Have It All - Transforming the Virtualized Datacenter
When: January 22, 2015 11:00 AM - 12:00 PM PST
Where: Online
1月23日(金)NextWave Summit [Japanese]
When: January 23, 2015 2:30 PM - 7:30 PM GMT+9:00
Where: 千代田区
1月23日(金)製品体感セミナー [Japanese]
When: January 23, 2015 1:30 PM - 5:00 PM GMT+9:00
Where: 千代田区
Webinar Santé [French]
When: January 27, 2015 10:30 AM - 11:30 AM CET
Where: Online
When: January 28, 2015 9:00 AM - 10:00 AM PST
Where: Online
Palo Alto's Next-Generation Security - Ultimate Test Drive
When: January 28, 2015 10:00 AM - 2:00 PM CST
Where: Houston, TX
1月30日(金)製品実感トレーニング[Japanese]
When: January 30, 2015 1:30 PM - 5:00 PM GMT+9:00
Where: 千代田区
Программа партнерского мероприятия Palo Alto Networks [Russian]
When: January 30, 2015 9:30 AM - 3:00 PM GMT+3:00
Where: Москва