Check out the top Palo Alto Networks news from this past week.
How well do you know your Zero Days and APTs? Take the challenge where knowledge of the worst threats out there could win you great prizes.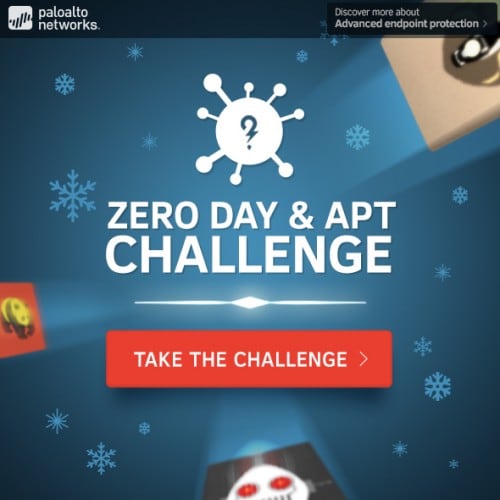 Unit 42 investigates an antivirus app in the Google Play store, which our WildFire analysis cloud captured and identified as "Scareware," that displayed fake virus detection results to scare users into purchasing a premium service and was downloaded over a million times.
Register for Ignite and save $400 when you add the CNSE exam by January 31.

In an effort to continue to drive the performance testing conversation toward the use of application-centric metrics, Palo Alto Networks partnered with Ixia and David Newman of Network Test to develop the first ever public-facing performance test that uses applications commonly found on your network. Learn more and see the results here.
Check out this whitepaper to read about the shortcomings of proxies and find out how a next-generation security platform can provide faster, simpler and more comprehensive security.
Need to set up a VM-Series NSX edition firewall? Use the checklist in the VM-Series Deployment Guide for step-by-step instructions.
Researchers from Unit 42 attended ShmooCon 2015 this past weekend and participated in several great presentations. Here they recap a few of their favorites.

Check out highlights of recent Palo Alto Networks coverage in China.
Rick Howard explains why he thinks that the book "Cyber Warfare: Techniques, Tactics and Tools for the Security Practitioners" by Jason Andress and Steve Winterfeld is Cybersecurity Canon-worthy, and why "Inside Cyber Warfare: Mapping the Cyber Underworld" by Jeffrey Carr is a must-read for cybersecurity historians.
Find out how to vote on which books you want to see join Parmy Olson's We Are Anonymous in the Cybersecurity Canon. Don't see your favorite cybersecurity book on the candidate list? You should submit it for consideration.
Here are upcoming events around the world that you should know about:
Webinar Santé [French]
When: January 27, 2015 10:30 AM - 11:30 AM CET
Where: Online
1月28日(水)Webセミナー [Japanese]
When: January 28, 2015 1:30 PM - 2:30 PM GMT+9:00
Where: 千代田区
Advanced Endpoint Protection, A Traps Tutorial
When: January 28, 2015 11:00 AM - 12:00 AM PST
Where: Online
When: January 28, 2015 9:00 AM - 10:00 AM PST
Where: Online
Palo Alto's Next-Generation Security - Ultimate Test Drive
When: January 28, 2015 10:00 AM - 2:00 PM CST
Where: Houston, TX
1月30日(金)製品実感トレーニング[Japanese]
When: January 30, 2015 1:30 PM - 5:00 PM GMT+9:00
Where: 千代田区
Программа партнерского мероприятия Palo Alto Networks [Russian]
When: January 30, 2015 9:30 AM - 3:00 PM GMT+3:00
Where: Москва
Lunch with Nir Zuk, Founder & CTO, Palo Alto Networks
When: February 3, 2015 12:00 PM - 2:00 PM GMT+13:00
Where: Auckland
Advanced Endpoint Protection, A Traps Tutorial
When: February 4, 2015 11:00 AM - 12:00 AM PST
Where: Online
Breakfast with Nir Zuk, Founder & CTO, Palo Alto Networks
When: February 4, 2015 7:30 AM - 9:00 AM GMT+11:00
Where: Melbourne, VIC
When: February 4, 2015 9:00 AM - 10:00 AM PST
Where: Online
Virtual Data Centre Ultimate Test Drive
When: February 4, 2015 10:00 AM - 1:00 PM GMT
Where: London
Cyber Security Predictions: What to Expect in 2015
When: February 5, 2015 11:00 AM - 12:00 PM PST
Where: Online
Ultimate Test Drive – 2015 [French]
When: February 5, 2015 9:00 AM - 1:00 PM CET
Where: Issy-les-Moulineaux, France
2月6日(金)製品実感トレーニング [Japanese]
When: February 6, 2015 1:30 PM - 5:00 PM GMT+9:00
Where: 千代田区
Breakfast with Nir Zuk, Founder & CTO, Palo Alto Networks
When: February 6, 2015 7:30 AM - 9:00 AM GMT+11:00
Where: The Rocks, NSW
Die Zwei um Zwölf - Modern Malware - Bedrohungsanalyse heute [German]
When: February 6, 2015 12:00 PM - 1:00 PM CET
Where: Online