We've rounded up all of the top Palo Alto Networks news from this past week.
Unit 42 shared its findings on KeyRaider, an iOS malware that has stolen over 225,000 Apple accounts and led to what is believed to be the largest known Apple account theft caused by malware. The threat intelligence team also followed up on its initial findings to offer guidance on how best to keep yourself safe from KeyRaider.
Palo Alto Networks has been nominated for three 2015 Computing Security Awards! Vote now.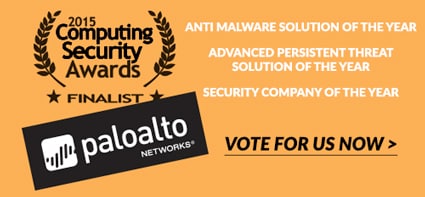 Matt Mellen discussed findings from a survey of healthcare executives conducted by KPMG, and some best practices to consider for effective protection of today's hospital networks.
Karin Shopen detailed five things your cybersecurity team must do.
Davis Hake talked about why the cybersecurity industry needs to learn to play together.
We prepared the definitive Cybersecurity Buyer's Guide, complete with recommended criteria for choosing a cybersecurity solution that can block cyberattacks and protect allowed traffic from known and unknown threats.
Here are upcoming events around the world that you should know about:
Palo Alto Networks Ultimate Test Drive
When: September 8, 2015 7:00 AM - 11:00 AM PST
Where: Online Event
認定トレーニング (9/8~10) [Japanese]
When: September 8, 2015 10:00 AM - 6:00 PM GMT+9:00
Where: 千代田区
Mobile Threat Workshop – Denver
When: September 9, 2015 11:30 AM - 1:30 PM MST
Where: Denver, CO
When: September 9, 2015 9:00 AM - 10:00 AM PST
Where: Online Event
LIVE EVENT: The Ultimate Test Drive – NSX and Palo Alto Networks
When: September 10, 2015 12:00 PM - 4:00 PM EST
Where: Reston, VA
Palo Alto Networks Zero Trust Security for Endpoints [Turkish]
When: September 10, 2015 10:00 AM - 11:00 AM EET
Where: Online Event
9月11日(金)製品実感トレーニング [Japanese]
When: September 11, 2015 1:30 PM - 5:00 PM GMT+9:00
Where: 千代田区
Die Zwei um Zwölf: Quality of Service (QoS) [German]
When: September 11, 2015 12:00 PM - 1:00 PM CET
Where: Online Event
Die Zwei um Zwölf: Quality of Service (QoS) [German]
When: September 11, 2015 12:00 PM - 1:00 PM CET
Where: Online Event
Introduction to Palo Alto Networks Next Generation Firewalls
When: September 14, 2015 10:00 AM - 6:00 PM EST
Where: Online Event
Technical Partner Bootcamp - Columbus, OH
When: September 14, 2015 9:00 AM - 5:00 PM EST
Where: Hilliard, OH
Mobile Threat Workshop – Minneapolis
When: September 15, 2015 11:30 AM - 1:30 PM CST
Where: Minneapolis, MN
When: September 15, 2015 11:00 AM - 12:00 PM EET
Where: Online Event
9月16日(水)製品導入・運用支援トレーニング [Japanese]
When: September 16, 2015 1:30 PM - 5:00 PM GMT+9:00
Where: 千代田区
Demo - näe mitä seuraavan sukupolven tietoturva tarkoittaa käytännössä [Finnish]
When: September 16, 2015 1:00 PM - 2:00 PM EET
Where: Online Event
When: September 16, 2015 9:00 AM - 10:00 AM PST
Where: Online Event
Threat Prevention Ultimate Test Drive
When: September 16, 2015 9:30 AM - 1:00 PM GMT
Where: London
When: September 17, 2015 11:30 AM - 1:30 PM EST
Where: McLean, VA
Invite-only Event: Crack the Code with Palo Alto Networks
When: September 17, 2015 11:30 AM - 3:30 PM CST
Where: Spring, TX
Technical Partner Bootcamp - Columbus, OH
When: September 17, 2015 9:00 AM - 5:00 PM EST
Where: Hilliard, OH
Ultimate Test Drive workshop Perth
When: September 17, 2015 9:00 AM - 12:30 PM GMT+8:00
Where: Perth, WA
Доверяй, но проверяй свои приложения в операционной системе [Russian]
When: September 17, 2015 12:00 PM - 1:00 PM EET
Where: Online Event
認定トレーニング (9/17~18) [Japanese]
When: September 17, 2015 10:00 AM - 6:00 PM GMT+9:00
Where: 千代田区
9月18日(金)製品体感セミナー(大阪) [Japanese]
When: September 18, 2015 1:30 PM - 5:00 PM GMT+9:00
Where: 大阪市北区