Enjoy a little light reading on all of our top news from the past week here.
We continued our 2016 Cybersecurity Predictions series:
Prediction 1: Joerg Sieber predicts how changes in marketing trends could impact web-based attacks in 2016.
Prediction 2: Brian Tokuyoshi predicts that the "what" will matter more than the "who" in mobile security.
Prediction 3: Matt Keil predicts public cloud security will move into the spotlight.

Interested in presenting at Ignite 2016? The Call for Papers is now open, along with early bird registration. Register before December 31 for $400 off your conference pass.

Ryan Olson, Unit 42 Intelligence Director, detailed our commitment to sharing threat intelligence.
Unit 42 published a technical analysis of TDrop2 with ties to Dark Seoul and Operation Troy campaigns in 2013. The team also investigated the Bookworm Trojan attackers' tactics, techniques and procedures (TTPs).
Members of the Cybersecurity Canon committee published two new book reviews: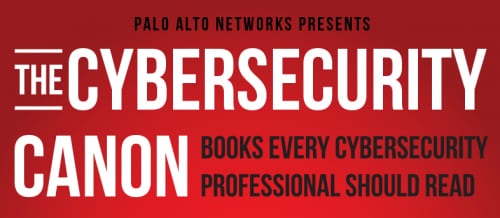 We published this month's Customer Spotlight: A more secure cloud with Palo Alto Networks means even better service from Nexon.
Our People of Palo Alto Networks series this week spotlighted Stephen Whyte and why he loves being a part of the solution.
Join Fuel User Group today and learn what's in store, and who will be presenting, at upcoming Spark User Summits in Boston, Sydney & Amsterdam.

Here are upcoming events around the world that you should know about:
Lucrative Ransomware Attacks: Analysis of the CryptoWall Version 3 Threat
When: December 1, 2015 9:00 AM – 10:00 AM PST
Where: Online Event
Palo Alto Networks and VMware NSX Micro-Segmentation Workshop
When: December 1, 2015 8:30 AM - 4:30 PM EST
Where: Reston, VA
When: December 2, 2015 9:00 AM - 10:00 AM PST
Where: Online Event
Threat Prevention Ultimate Test Drive
When: December 2, 2015 8:30 AM - 12:00 PM EST
Where: New York, NY
Palo Alto Networks and VMware NSX Micro-Segmentation Workshop
When: December 3, 2015 8:30 AM - 4:30 PM EST
Where: Fulton, MD
When: December 3, 2015 2:00 PM - 5:00 PM EST
Where: Indianapolis, IN
Prevenga Ciber-amenazas con Palo Alto Networks y Connext
When: December 3, 2015 9:00 AM - 12:00 PM CST
Where: Guadalajara, JAL
When: December 3, 2015 1:00 PM - 4:00 PM CST
Where: Maryland Heights, MO
When: December 3, 2015 1:30 PM - 4:30 PM GMT+9:00
Where: 港区
When: December 4, 2015 1:30 PM - 5:00 PM GMT+9:00
Where: 千代田区
Die Zwei um Zwölf: Die Zwei um zwölf: Design Best Practices
When: December 4, 2015 12:00 PM - 1:00 PM MEZ
Where: Online Event
Virtualized Data Center Workshop with Palo Alto Networks
When: December 4, 2015 8:30 AM - 12:30 PM EST
Where: Portland, ME