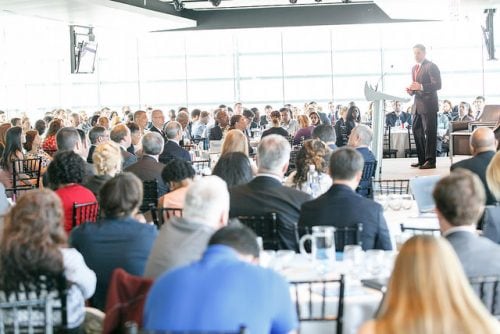 Nearly 400 people attended Palo Alto Networks Federal Forum last Thursday at the Newseum in Washington, D.C., just a stone's throw from the iconic dome of the U.S. Capitol. The event featured a dynamic speaker lineup of cybersecurity luminaries in the federal government, including U.S. Cyber Command head and NSA Director Admiral Michael Rogers, Federal CIO Tony Scott and Congressman Will Hurd.
The Forum brought together a broad range of stakeholders, with perspectives from civilian government, military, law enforcement, the intelligence community and the private sector— clear recognition that cybersecurity is a fundamentally distributed problem that can only be addressed through partnership across the ecosystem.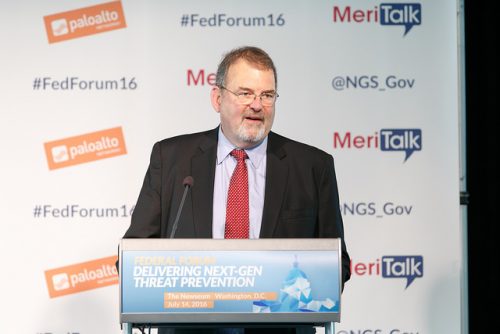 Over the course of the panel and keynote discussions at the Forum, some key themes emerged:
Federal information technologies must be modernized to reflect the current cyberthreat environment. Both Federal CIO Scott and Congressman Hurd touted plans to update legacy IT systems—an indication of the growing consensus on this issue in both the executive and legislative branches.
Cyberthreat information sharing across the public and private sectors is critical to thwarting attacks. Further, it's essential that this sharing be done in an automated fashion and in real time, whenever possible, to keep pace with modern threats.
Cybersecurity education is paramount to cyberthreat prevention. Both Palo Alto Networks CEO Mark McLaughlin and Admiral Rogers highlighted the importance of encouraging strong cyber hygiene practices in the workplace during their keynotes, noting that devastating cyberattacks can be launched with techniques as simple as clicking on a malicious link or attachment in an email.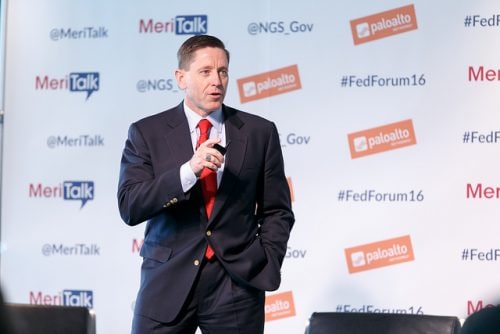 Our CEO, Mark McLaughlin, delivered a morning keynote that discussed how a prevention-based approach to cybersecurity is key to protecting our way of life in the digital age. Mark emphasized that security and people's trust in the web-connected services and devices we use every day are not mutually exclusive and, instead, that security must provide the foundation for trust. This point underscored the key role that prevention-minded security platforms play in helping foster and reinforce the trust people have in using digital technology.
Federal CIO Scott kicked off the day with a keynote discussing the government's push to hire more cyber professionals in the public sector and its focus on hiring talent with diverse backgrounds and skill sets, such as behavioral sciences and economics. He also discussed the need to authorize an IT modernization fund, citing that 80 percent of the federal IT budget currently goes to maintenance costs for obsolete legacy systems.
Congressman Hurd, who chairs the IT subcommittee on the House Oversight and Government Reform committee, also covered the importance of threat information sharing between government and industry and the need to modernize IT systems in the federal government. Hurd made news during his keynote by announcing he would introduce the Modernizing Obsolete and Vulnerable Enterprise IT (MOVE IT) Act to Congress.
In the closing keynote, Admiral Rogers offered his perspective on the evolving threat landscape, including the recent rise of ransomware and how the government can best respond to prevent this increasingly prevalent threat.
Palo Alto Networks VP of Cybersecurity Strategy and Global Policy Ryan Gillis and Federal CSO John Davis also led panel sessions on federal network security and information sharing, respectively.
The federal network security panel was carefully curated to recognize the full range of government perspectives and authorities, including organizations responsible for cross-government oversight and policy implementation (Office of Management and Budget), cross-government operational implementation (Department of Homeland Security), implementation of policy and operational guidance (Office of Personnel Management), and complementing these government efforts in the military (Department of Defense). Panelists included:
Mark Kneidinger, Director of the Federal Network Resilience Division at the Department of Homeland Security
Trevor Rudolph, Chief of the Cyber and National Security Unit at the Office of Management and Budget
Clifton Triplett, Senior Cyber and Information Technology Advisor at the Office of Personnel Management
Major General Sarah E. Zabel, Vice Director at the Defense Information Systems Agency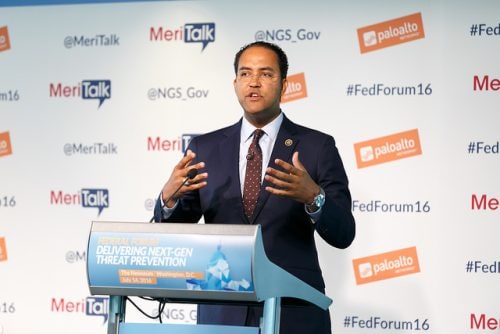 The information sharing panel was similarly designed to cover the range of public-interfacing government cyber centers, including law enforcement (FBI), defense (Department of Defense Cyber Crime Center), and the civilian government (Department of Homeland Security). Panelists included:
Steve Shirley, Executive Director at the Department of Defense Cyber Crime Center
Greg Touhill, Deputy Assistant Secretary for Cybersecurity and Communications at the Department of Homeland Security
Jim Trainor, Assistant Director of the Cyber Division at the FBI
We would like to thank all of our speakers for sharing their unique insight and everyone who joined us last week at the Federal Forum for a truly collaborative discussion.
If you weren't able to make it to the event this year, fear not—we are launching our inaugural Palo Alto Networks Federal Ignite event in Washington, D.C. in October 2017. Stay tuned here for more details.