Palo Alto Networks hosted the first-ever Federal Ignite conference this week in Washington, D.C., featuring remarks from top government leaders and industry executives. The summit explored a new era for federal cybersecurity, focusing on the critical need to harmonize industry and government toward a bolder vision that disrupts the unsustainable, incremental status quo in cybersecurity.
In front of many of the leading voices in industry and policy, Palo Alto Networks chairman and CEO Mark McLaughlin kicked off his keynote with a bold call to action: we need a cybersecurity moonshot – a clear, unified national effort to mobilize the U.S. toward a shared strategic vision and an ambitious end goal to make the internet safe in 10 years.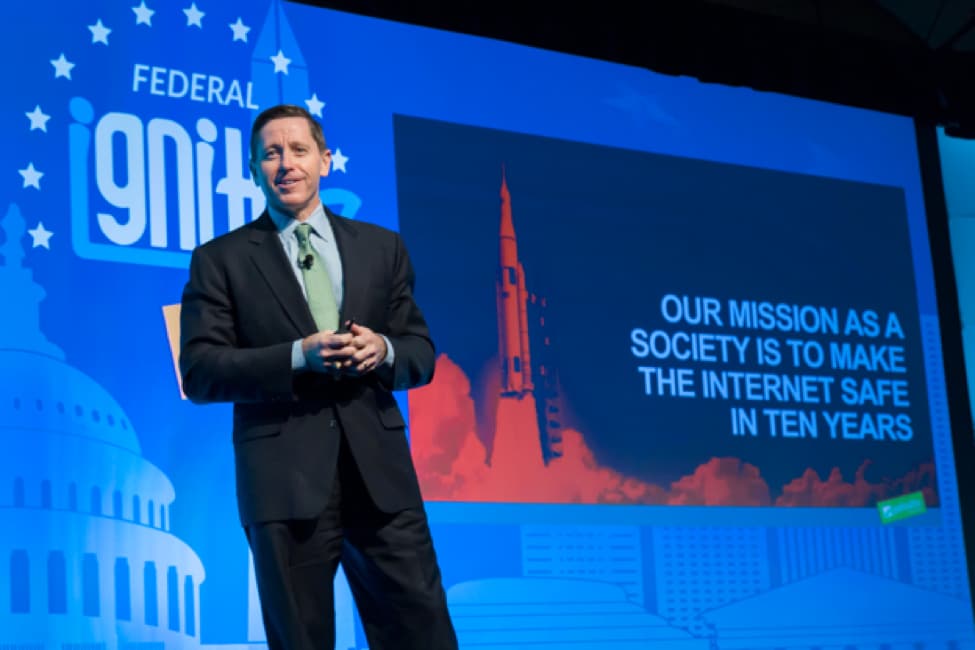 In his keynote, Mark said, "We've proven as a nation, a few times in our history, that if something is that important to the fundamental way of life, that we actually can rally around it in ways that we can look beyond years and political timeframes and do something very important."  As one critical component of an overarching, long-term moonshot strategy, Mark spoke about how Palo Alto Networks was leading the charge right now to fundamentally simplify and automate how organizations rapidly evaluate and consume cybersecurity innovations as cloud-based applications.
This moonshot vision was echoed by many of the day's leading speakers. Tom Bossert, assistant to the president for homeland security and counterterrorism, in a fireside chat with Mark, characterized the cybersecurity moonshot as "good terminology, in terms of galvanizing a call to action – for the nation to understand that there's an increasing trendline in the wrong direction." Bossert also announced at the conference, for the first time, that the administration was actively developing a new cybersecurity strategy as an extension of work already underway through the cybersecurity executive order released this past May.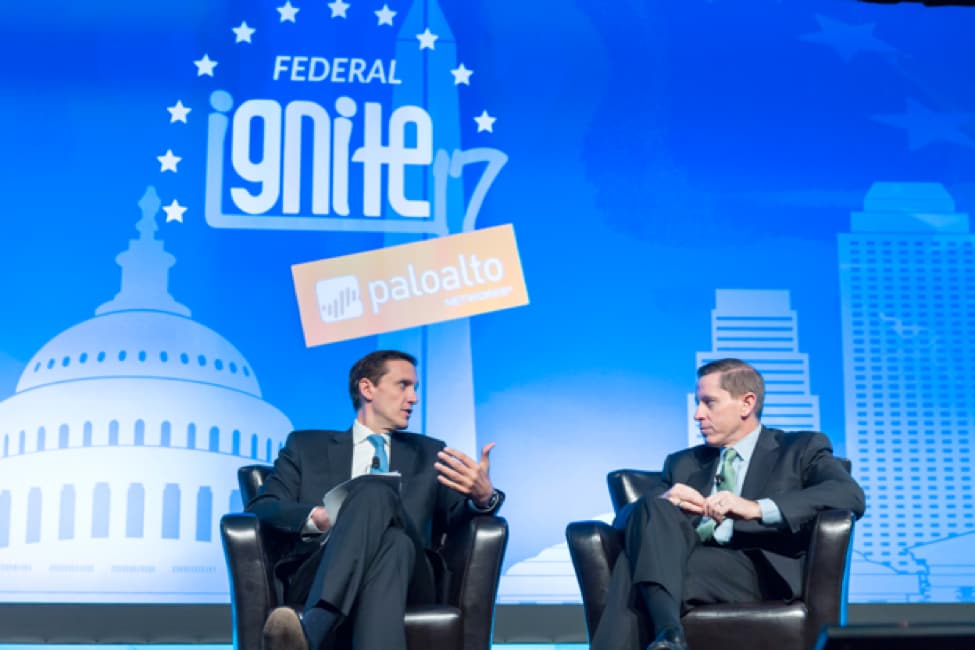 During his morning keynote, Congressman John Ratcliffe, chairman of the cybersecurity and infrastructure protection subcommittee on the House Homeland Security Committee, argued that "we all have a moral imperative to be part of a long-term solution" and that "it's time for the aspirational to be implemented and for the theoretical to become real," because "this is a national priority that is not going away." Ratcliffe also argued for leveraging private sector innovation in areas like cloud security to modernize the government's digital infrastructure "in a way that is more automated to actively prevent, not just detect and respond to, emerging cyberthreats."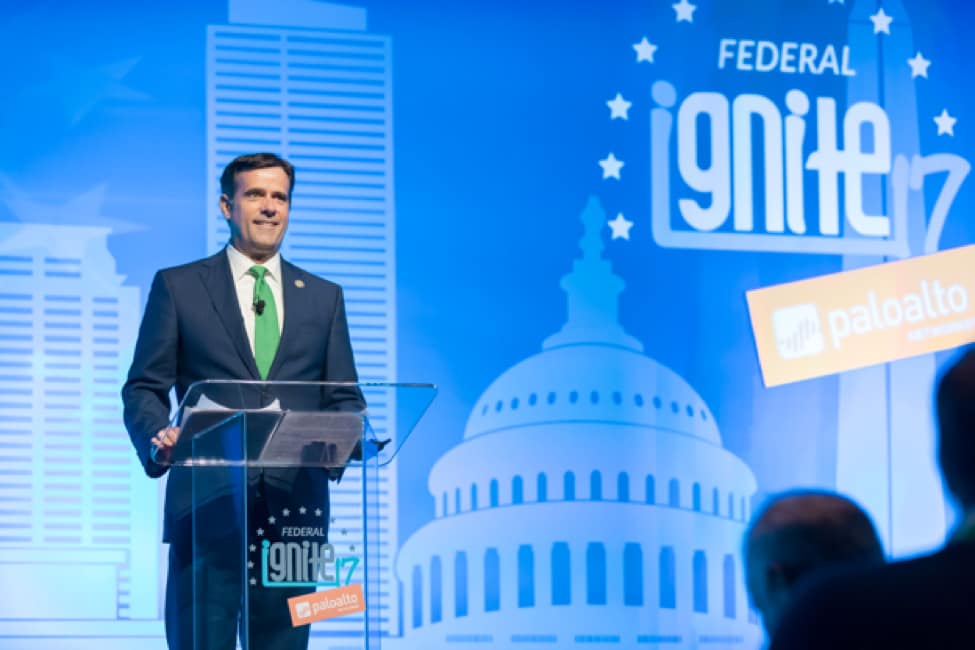 Federal Ignite also featured important discussions on the need to address the cybersecurity workforce shortage as well as improve public/private sector collaboration to effectively leverage talented veterans transitioning from the military. Bossert expressed the need for increased collaboration between the public and private sectors in the name of creating more highly trained cybersecurity professionals to help secure and protect the internet. Congressman Mike Gallagher, in a fireside chat with Gen. John Davis, federal chief security officer at Palo Alto Networks, echoed this call and reminded the audience that we must do more to fill the millions of open cybersecurity jobs we expect to see in the future. According to a report by Cybersecurity Ventures, there will be an estimated 3.5 million open cybersecurity jobs by 2021. Gallagher reminded the audience that there is more work to be done in supporting the successful transition of our nation's warriors, and that the unique skill sets our veterans offer are well-suited for careers in the cybersecurity industry.
Also highlighted were our company's efforts to build a more cyber-savvy society, with an emphasis on cybersecurity education and training. To this end, we affirmed that we have committed to train 400 veterans and transitioning service members in cybersecurity over the next five years. We also discussed our partnership with the Girl Scouts of America to deliver the first-ever cybersecurity badges for girls in K–12. In addition, we co-hosted an event on Capitol Hill with Girl Scouts from Washington, D.C.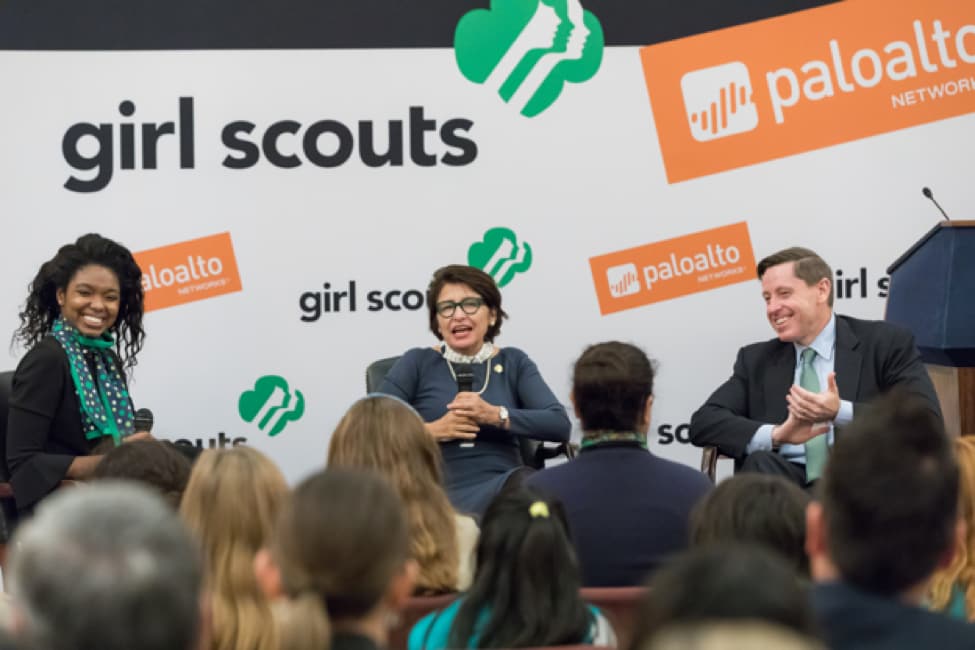 We look forward to continuing to work across the public and private sectors to encourage more Americans to join us in our mission to protect our digital way of life by preventing cyberattacks and helping further our broader, shared goal to make the internet safe in 10 years.