We're just days away from Black Hat USA 2016, where top security minds and researchers from around the world will gather to share their expertise with the rest of the security community.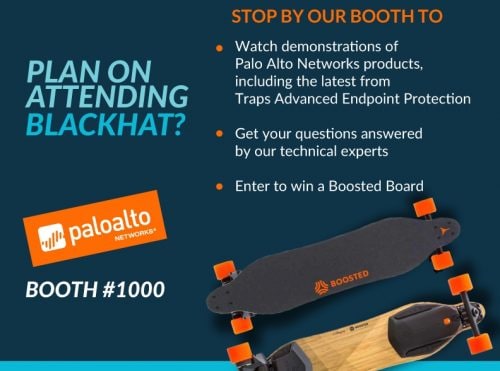 Join us at Booth #1000 in the Expo Hall on Wednesday, August 3 and Thursday, August 4 to experience all of the new and exciting things Palo Alto Networks has to offer, such as:
Exciting news about our advanced endpoint protection
Deep-dive demonstrations of Palo Alto Networks Traps advanced endpoint protection, AutoFocus actionable threat intelligence, and the new PAN-OS 7.1
Technical experts who are available to help tackle your security challenges
The latest Palo Alto Networks technology integrations
On-site recruiters ready to explain why Palo Alto Networks was voted the best place to work in the Bay Area and how you can join us
The chance to win a Boosted Board
In addition to all of the activities above, don't miss out on these informative presentations from cybersecurity experts of Palo Alto Networks:
Defeating Evasive Ransomware: How to Automate Prevention
Presenters: Michael Moshiri and Erik Yunghans
Time and Location: Wednesday, August 3 at 3:30 p.m. in the Business Hall, Theater A.
Next Generation of Exploit Kit Detection by Building Simulated Obfuscators
Presenters: Tongbo Luo and Xing Jin
Time and Location: Thursday, August 4 at 11:00 a.m. in the Mandalay Bay BCD.
We're looking forward to seeing you next week at Black Hat USA 2016!
For more information about Palo Alto Networks: