Recently, we published a light-hearted video "If Your Smartphones Could Talk," in which we captured an infected mobile phone's "guilty confession" to sending unauthorized premium text messages without its subscriber's (Jennifer's) knowledge. It was a humorous attempt to make an important point – malware on subscriber devices can have a real impact on a service provider's bottom line and on their most important asset – the subscriber.
Here are some more details on Jennifer's experience and how a subscriber like Jennifer can impact service provider profitability.
Jennifer is an example of how subscribers can quickly move from satisfied and  "engaged" to dissatisfied and enraged as a result of a security incident. Research has shown that dissatisfied customers cost more to serve, and they spend less money, even if they don't churn out to another provider. There are real dollars in terms of support costs and lost revenue opportunities.

Imagine the following scenario: Jennifer is a subscriber in a high-value consumer segment. Total acquisition costs are high, but lifetime value, including additional quad play services plus lines and phones for family members, is much greater than a typical subscriber (see chart below).
Typical
Jennifer
Cost of acquisition

-   including device subsidy

$150
$1,300
Monthly ARPU
$100
$265
Life-time value (net)
$150
$4,000
Jennifer provides additional benefits – she is an active promoter of the brand – she loves her new phone and wants to try all the new apps her friends have been telling her about. She is so thrilled, she posted a picture of herself with her phone on social media.
So what happened to Jennifer after the guilty mobile device sent countless "silent" SMS messages?
Well, as you might guess, when Jennifer got her bill, she discovered hundreds of dollars in charges for premium text messages she never wanted or sent. She was furious and called customer care. In the lengthy conversation that followed, the customer care rep refunded Jennifer and told her she might have malware on her phone. Although her immediate problem was resolved, the experience left her with nagging doubts – malware on her phone? She didn't even know mobile devices could get infected and she is reconsidering whether she should allow her family members to get the mobile phones they want. Research suggests she is likely to tell 10-12 of her friends about her negative experience.
For example, if Jennifer decides to switch providers earlier than expected, never expand the plan to add her family, and not buy any of those extra value-added services, that $4,000 potential lifetime value could easily drop as low as $150. That $150 barely covers the cost of the call to customer care.
With the average monthly malware infection rate reported by Nokia now at 1.35 percent of mobile devices, a service provider with 20M subscribers could have 270,000 "Jennifers" calling customer care every month! That's a huge risk to future revenue, a big increase to customer care costs, and can certainly contribute to high churn.
These are major concerns all service providers are facing today. Palo Alto Networks Next-Generation Security Platform enables service providers to offer protection to their subscribers and enterprise customers while further protecting their own networks from malware-related attacks.
Learn more about the new role of security in service provider value and revenue creation in our white paper, "Rethink Security Monetization."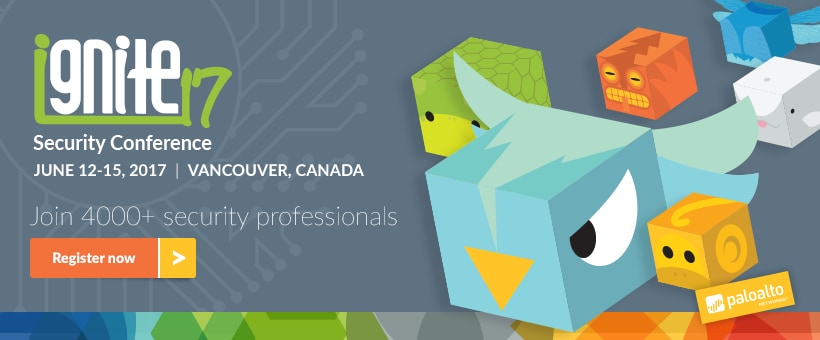 Ignite '17 Security Conference: Vancouver, BC June 12–15, 2017
Ignite '17 Security Conference is a live, four-day conference designed for today's security professionals. Hear from innovators and experts, gain real-world skills through hands-on sessions and interactive workshops, and find out how breach prevention is changing the security industry. Visit the Ignite website for more information on tracks, workshops and marquee sessions.