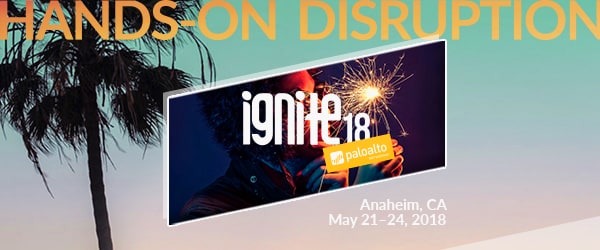 Roll up your sleeves!
The Ignite '18 Security Conference is all about hands-on disruption, and there's really no substitute for experiencing the newest security technology, learning by doing, hearing firsthand from peers and connecting with experts in your field.
Among our 100+ planned sessions, you'll find:
Advanced practitioner deep dives
Best practice breakouts
Real-world case studies and recommendations
Register now and join thousands of your peers in sunny Anaheim this spring. Save $400 on Ignite '18 Security Conference passes if you register by January 6.
Ignite '18 Security Conference
Anaheim, California  |  May 21–24, 2018
Ignite '18 is a live, four-day conference designed for today's leading security professionals. Join us May 21–24, 2018 in Anaheim, California, to hear from innovators and experts, gain real-world skills through hands-on sessions and interactive workshops, and find out how best-in-class breach prevention is changing the security industry. Visit the Ignite website for more information.