Introducing GlobalProtect app 4.1 – the next-generation security solution extending your firewall-based policies to an increasingly mobile workforce.
This release includes the following key features and enhancements to help your users access sensitive network resources securely from anywhere in the world.
Enhanced User Experience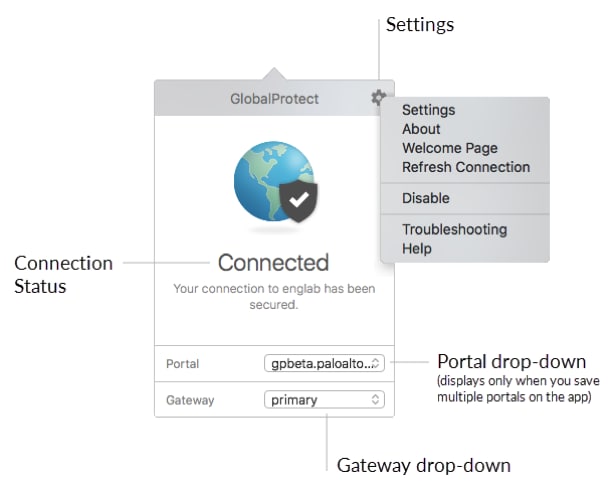 The GlobalProtect app for Windows and macOS endpoints has a fresh new look and feel that provides a more intuitive and seamless user experience. The new app features a more modern and streamlined app interface, a smoother connection process, centralized notification management, support for multiple portals, and more!
GlobalProtect App for Linux
The wait is finally over! We are excited to introduce the brand new GlobalProtect app for Linux, which extends User-ID and firewall-based policy enforcement to Linux endpoints. The new app is available for the Linux distribution of Ubuntu 12.04, RHEL 7.0, and CentOS 7.0 (and later releases of each) and supports common GlobalProtect features, authentication methods, and connect methods.
Optimized Split Tunneling
Wasting valuable time waiting for your applications to load? Experiencing performance issues due to network latency? Don't let bandwidth congestion slow you down! The GlobalProtect app for Windows and macOS endpoints now supports split tunneling by destination domain, application process name, and HTP/HTTPS video streaming application. This enhancement extends the existing split tunnel capability by enabling you to route SaaS and public cloud applications with dynamic IP addresses through the VPN tunnel for policy enforcement and application management, while sending lower risk, latency-sensitive applications (including video streaming applications such as YouTube and Netflix) outside the VPN tunnel. By specifying which applications you want to include or exclude from the VPN tunnel, you can reduce gateway bandwidth consumption in environments where it is not always possible to tunnel all traffic.
Expired Active Directory Password Change for Remote Users
Whether your users are working remotely from the comfort of their own homes or on the soft, sandy beaches of a tropical island, they no longer have to worry about accessing network resources after their passwords expire. Remote users now have the ability to change their RADIUS or Active Directory (AD) passwords directly through the GlobalProtect app when they are unable to access the corporate network locally. This feature is applicable only when a user authenticates with a RADIUS server using the Protected Extensible Authentication Protocol Microsoft Challenge Handshake Authentication Protocol version 2 (PEAP-MSCHAPv2), and when the user's password expires or a RADIUS/AD administrator requires a password change at the next login.
To learn more about all the exciting new features introduced in this release, check out the following resources:
Happy reading!
Your friendly Technical Documentation team
Have questions? Contact us at documentation@paloaltonetworks.com.