Our award-winning NextWave Channel Partner Program achieved CRN's 5-Star partner program rating for the 7th consecutive year. We are proud of this accomplishment and we continue to enhance the program by reviewing market dynamics, customer needs, partner feedback and data analytics to simplify, strengthen and innovate for our partners.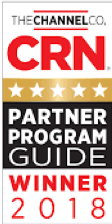 We have made the following three changes:
Announced a Traps Cloud Specialization to align with Traps 5.0, which fortified our endpoint prevention capabilities and transforms Traps into a cloud-managed advanced endpoint protection service. This specialization will count toward the NextWave Diamond and Platinum requirement to become Traps Specialized by July 31, 2018.
Eliminated the minimum bookings requirement from all NextWave Specializations: Traps, Traps Cloud, MSSP and Public Cloud. To learn more about these changes, view the NextWave Interactive Guide.
We added the PA-3220 (replacing the PA-3020) into our popular Invest in Success not-for-resale (NFR) promotion, giving 40% off the NFR SKU on select hardware products.

NFR fun fact: our Partner Evaluation System can help you provision evaluation licenses on your NFR equipment, allowing you to showcase the benefits of our Security Operating Platform.
Keep the feedback coming. Respond to this blog with your thoughts.