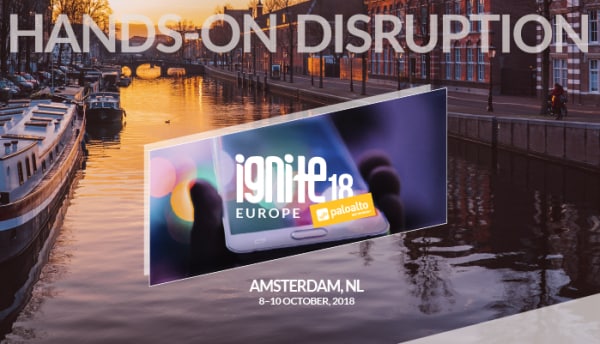 Ignite Europe is just around the corner. With over 100 sessions, a variety of hands-on workshops and countless opportunities for peer-to-peer networking, many wonder what to focus on and how to make the most of their experience. Here are some ways to maximize your time at the conference. 
Customize your agenda
Whether you're a partner, a cloud architect or a business executive, you can tailor your agenda to suit your needs. Our session builder makes it simple for you to build your own schedule, whether you're looking for a roundtable discussion on IoT, a technical session on container security, or an overview of how you can implement Palo Alto Networks products in the era of GDPR.
Get truly hands-on
We believe in learning by doing and experiencing our technology in action.  Palo Alto Networks is offering thousands of seats throughout the conference to see how our products and services work against the most sophisticated threats.  Sign up for Hands-On Workshops, Ultimate Test Drives, Cyber Ranges, and more. We also encourage you to secure your seat in advance to take the PCNSE accreditation exam at this year's Ignite.
Schedule time to visit the Beacon Neighbourhood
Be sure to stop by the Beacon Neighbourhood in the expo hall to meet the experts behind our Prevention Architecture Methodology, advocacy groups, communities, award-winning support and more.  These teams produce:
Product content such as our technical documentation, datasheets, and whitepapers
Training content such as learning modules and certification information
Maintenance and measurement tools such as the Security Lifecycle Review, and the Best Practice Assessment
Customer case studies and videos
and much, much more.
You can learn more about Beacon beforehand here.
Network with your peers
Ignite Europe is a fantastic opportunity to expand your international network, with more than 1,500 security experts in attendance and plenty of workshops and sessions in which to connect.
Additionally, our own product experts will be available to share ideas and answer any questions you have.
You can learn more about the conference and what to expect here.  I look forward to seeing you in Amsterdam.