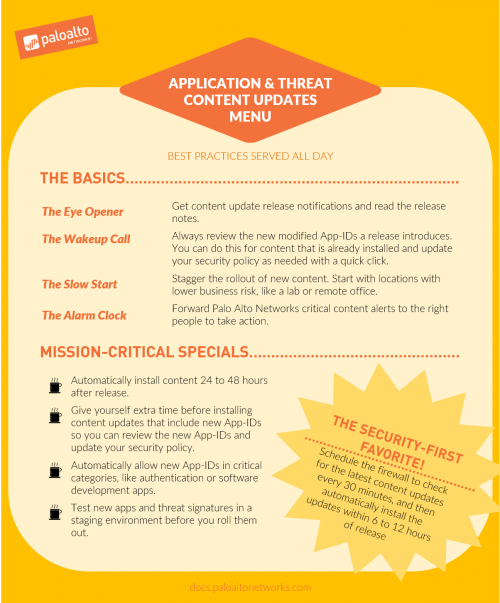 Start your day off right with a balanced serving of Palo Alto Networks best practices! Today's special, the Best Practices for Application and Threat Content Updates, is hot off the griddle…
Content updates equip the firewall with the very latest App-IDs and threat signatures. While new App-IDs and threat signatures are delivered in a single package, you don't have to enable them at the same time. Instead, how you choose to deploy content updates might depend on your organization's network security and application availability requirements.  This is where best practices come in. Start by identifying your organization as:
Mission-Critical—Application availability is your #1 priority.
Security-First—You're laser-focused on network security.
A healthy mix of both!
Our best practices will take it from there, and help you decide how to deploy content updates based on your needs.
Take a look at our menu of content update best practices and pick and choose what works best for you.
Hungry for more? Check out our Best Practices library for your next serving.
And, if you haven't already seen it, be sure to check out our new Tech Docs portal.
Have questions? Contact us at documentation@paloaltonetworks.com.