Our mission at Palo Alto Networks is to be the cybersecurity partner of choice, protecting our customers' digital way of life. 
COVID-19 has proven to be a disruptive event of historic proportions. There is hardly an enterprise, government, learning center, industry or community that has not been impacted by this pandemic. The current environment has forced a transition that most of our customers did not expect. Enterprises, though, are now starting to plan with the idea that managing large remote workforces will be the new normal long after the effects of the virus abate. 
Having an infrastructure designed for highly secure worldwide access that enables employees, students and civil servants to work and learn from anywhere across the globe is now a core requirement for public and private organizations. The pandemic is only accelerating the development of business architectures that the cloud, IoT and automation have long been influencing, and the cyber threats associated with these shifts. Securing the edge through cloud-delivered solutions is part of these changes. Palo Alto Networks has been at the front line of these accelerated transitions, and we are helping our customers rapidly and securely scale millions of remote workers.
Prisma Access provides cloud-delivered security and access to employees anywhere in the world. It rapidly enables a mobile workforce, without the need for additional hardware or infrastructure deployment. Working with customers in every industry, we have found that the following principles are critical to ensure a scalable and secure remote workforce. These principles are more important today than ever before when architecting remote work solutions:
Best-in-class cloud-delivered security including sandboxing, cloud Secure Web Gateway, DNS security, and Data Loss Prevention for all applications.

Five nines reliable, premium tier-one global network for secure access from anywhere.

Accelerated deployment with the ability to automatically scale to thousands of users globally.

Software-based cloud security, managed by a carrier-grade, fault-tolerant scalable infrastructure in the cloud.

Dedicated network and security computing infrastructure per customer vs. shared, fixed-point infrastructure helps Prisma Access provide stringent performance service-level agreements (SLAs).
When we say millions of users, we mean it! 
We support those millions of users on Prisma Access, a platform we built from the ground up for agility and scalability. This global architecture helps us provide low-latency, reliable access for all applications, no matter where they are hosted, and an uninterrupted and excellent user experience, without compromising security. 
Just in the last couple of months, Prisma Access effortlessly scaled over three times the aggregate capacity, helping our global enterprise customers scale their remote workforce overnight as shown in the graph below. We have also seen over a seven times increase in users at any given time, further validating our resilient platform and scale.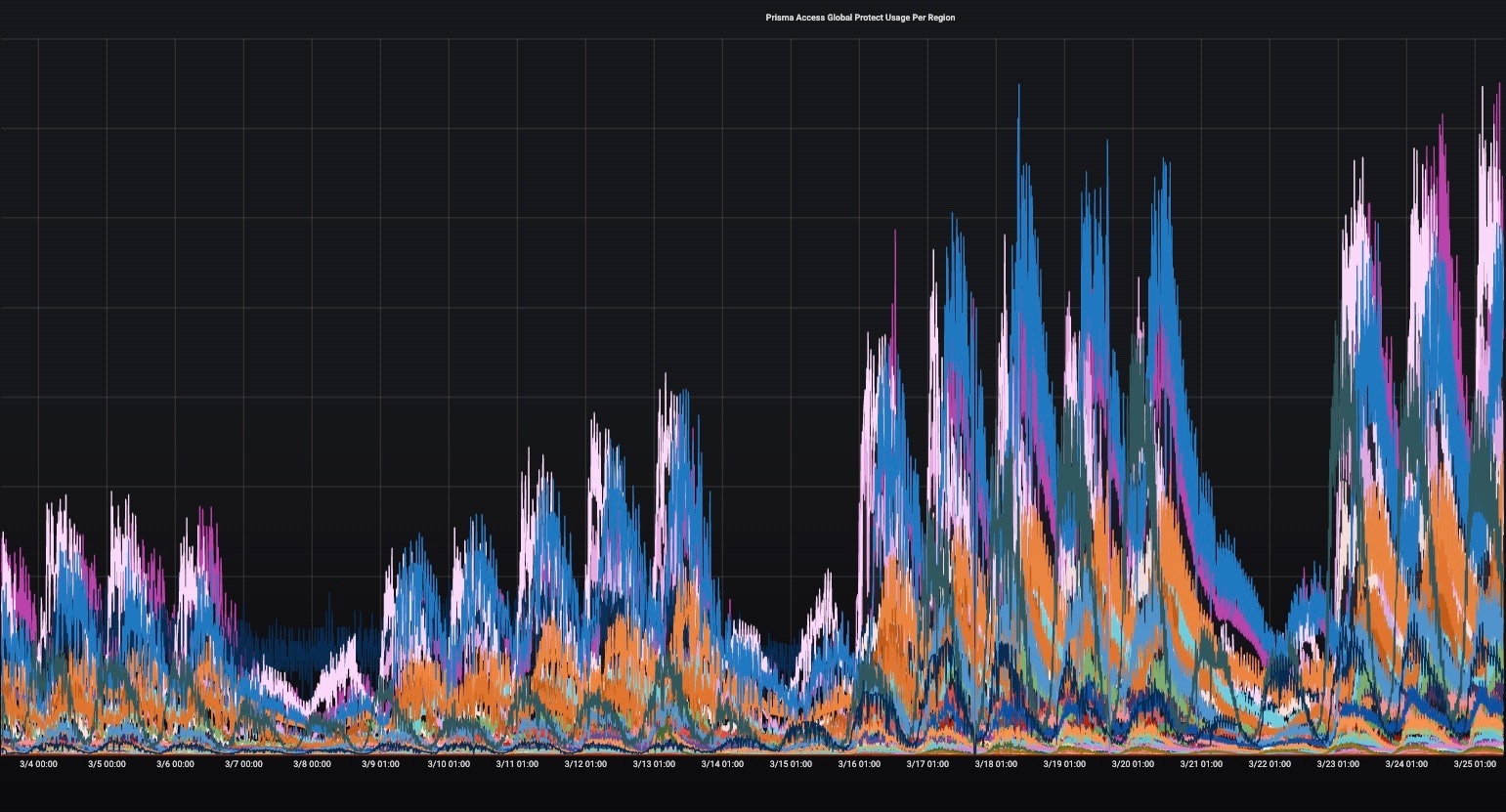 I am extremely proud of what our team has built here. Innovations like these are helping our customers navigate through uncertainty and architect the new normal. 
James Shira, Principal, Global, and US Chief Information and Technology Officer, PwC, recently talked about their forward-looking digital strategy powered by Prisma Access, which enabled the organization to support over 225,000 remote workers with no business interruptions.  
Schlumberger went from a 25,000 remote user base to 80,000 users working remotely very quickly, without any disruptions, all made possible by Prisma Access. 
As educational institutions adapt to distance learning, we are here to support them. One example is Alameda County Office of Education, where we played a critical role in providing a secure environment both for students and teachers. Ryan Choate, Director of IT and Network Services at Alameda County Office of Education says  "We're here to make sure our kids and teachers get the most out of every online learning opportunity safely and securely. Palo Alto Networks is central to making that possible." We appreciate his support. 
These are most certainly challenging times for businesses and communities alike, and there are more hurdles ahead. But we are also hopeful that our innovations in their own small way show the ingenuity of people working together to help customers embrace cloud and mobility with ease and simplicity. We are here to support your growth and become your cybersecurity partner on your digital journey and transformation. 
Register for this live panel webcast, "Managing the Cyber Risks of Remote Work," on May 14, 2020, to hear industry experts share insights on how to navigate cybersecurity threats facing organizations as they accelerate their capabilities and infrastructure to support the increase in remote workers. 
Learn more about how we can help empower organizations to work securely from anywhere.