Providing quality products is only a first step in securing your organization. To truly protect what matters to you, it's important to deploy cybersecurity products correctly, use best practices, keep up with the latest news and so much more. That's why Palo Alto Networks offers LIVEcommunity, where customers and partners can travel together in the journey toward a safer and more secure online world.
Why Online Customer Communities Are Important
In today's digital world, online customer communities have become an essential tool for providing high-quality customer service, building trust and promoting interest, and laying out a pathway for new customers to become technology experts and get excited about what Palo Alto Networks products can do.
With the rise of remote work, it's become increasingly important to have scalable online customer communities where we can all learn, connect and engage with each other.
LIVEcommunity: The Official Palo Alto Networks Online User Community!
LIVEcommunity is an online technical user community of more than 170,000 smart, collaborative networking and cybersecurity pros in a vibrant, insightful forum full of meaningful discussion. LIVEcommunity provides answers to address your common challenges, guides you toward best practices, offers a place to share ideas and helps you be successful with Palo Alto Networks technology. Thousands of minds working together are far more powerful than a lone engineer.
Whether it's your first time learning about Palo Alto Networks or you are looking for answers specific to one of our technologies, the LIVEcommunity is here to help throughout your lifecycle journey, whether that be setting up, configuring, integrating or scaling your Palo Alto Networks product.
Resources Abound Throughout the LIVEcommunity
LIVEcommunity hosts resources to help a robust community on its journey of learning and finding answers. Discussion forums, blogs, technology pages and more are all at your fingertips! Here's a sneak peek:
Find answers to common questions by leveraging our discussion forums: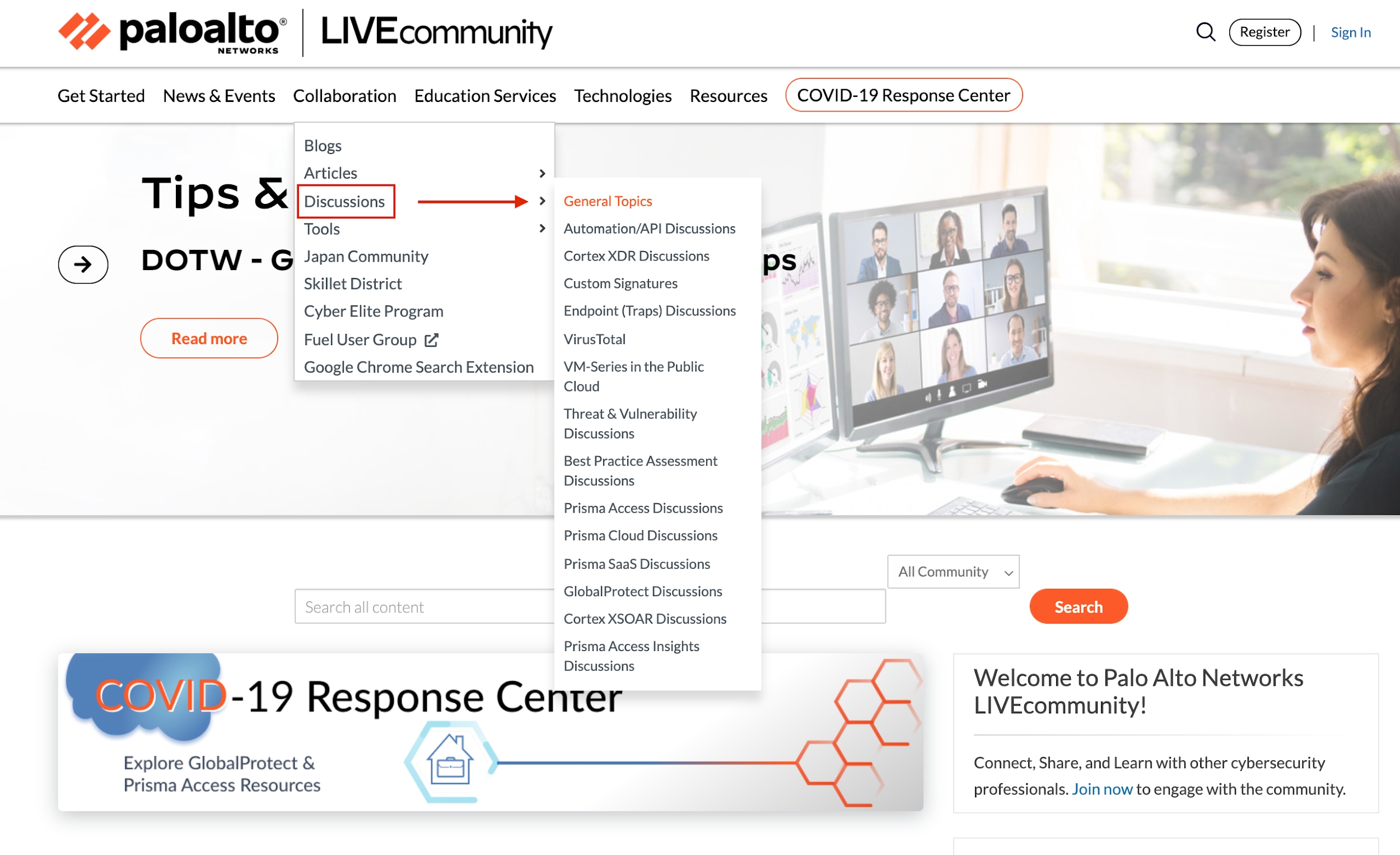 Looking for some help finding the best of the best? For discussions, best practices, a way to share ideas and videos pertaining to your Palo Alto Networks technology, you can find curated content across all our technology resource pages: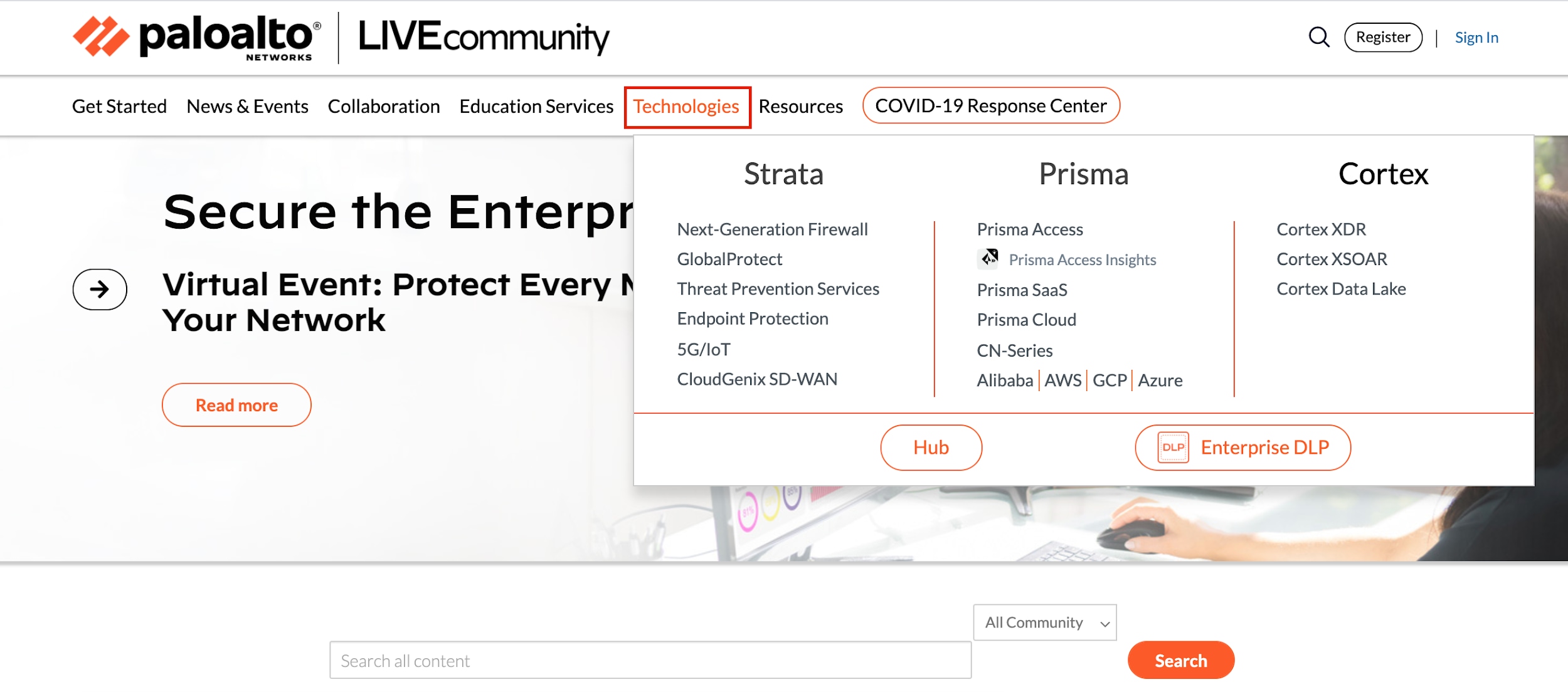 Stay up to date with the latest around Palo Alto Networks technologies by reading new blogs every week. Our Solution Engineers cover a range of topics that include tips and tricks around your product, new product enhancements and more!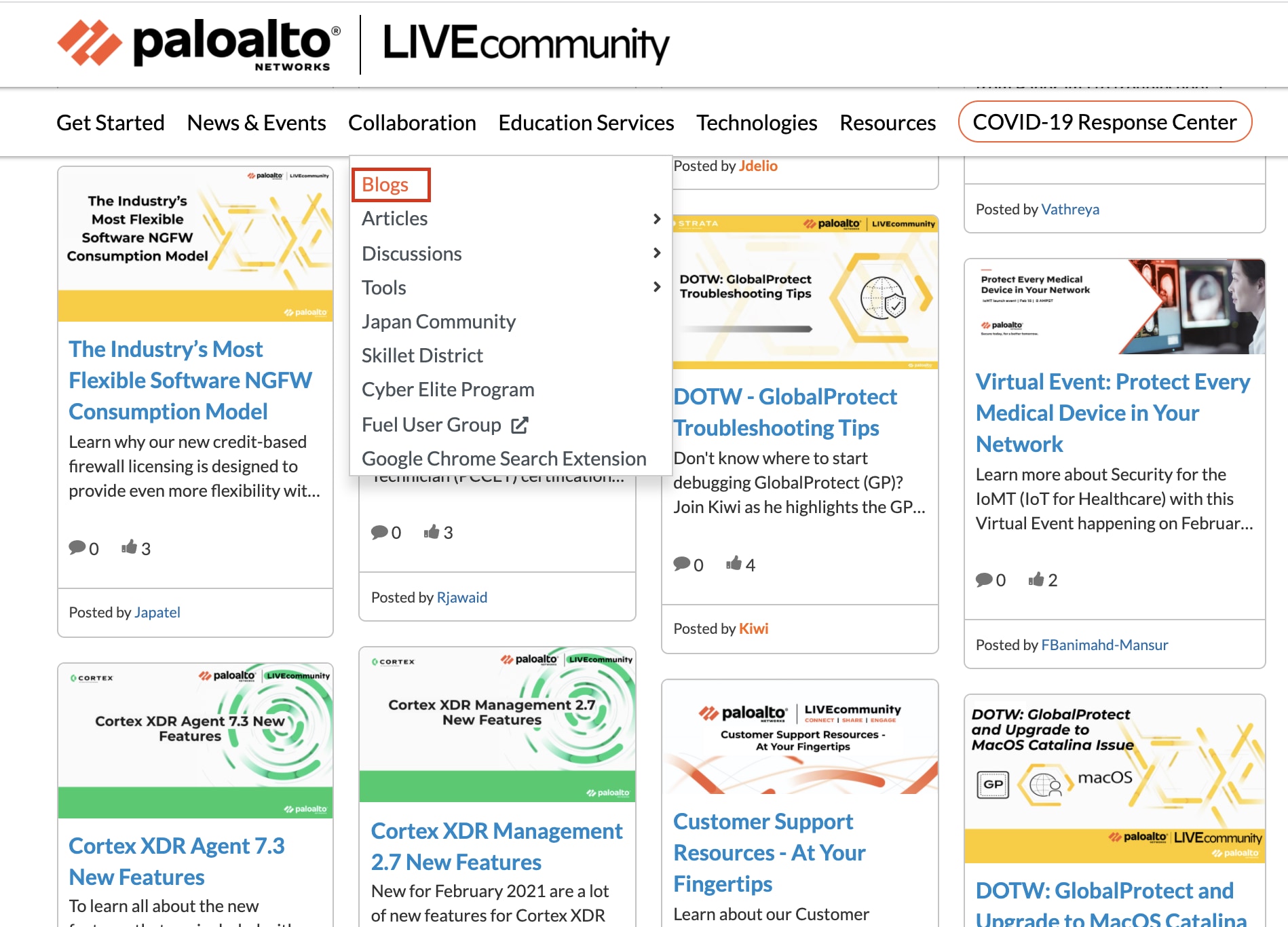 Here's What Customers Have to Say About LIVEcommunity
"I started engaging in LIVEcommunity initially to learn more about how everyone else was doing things. Then I just started helping others and found that helped me learn more about Palo Alto Networks technology."
"My advice to anyone interested in Palo Alto Networks is to read, research, study and enjoy the LIVEcommunity, as the information there is infinite."
Meet our Community Experts: Cyber Elite Members

A few months ago we launched our community expert member program. The Cyber Elite Program recognizes LIVEcommunity members who consistently share their expertise and bring value to the community by helping others. These are dedicated members who stand out as key users who have contributed countless hours to the community. They are instrumental in bringing the LIVEcommunity together, and this program is how we proudly recognize some of our amazing members!
You can learn more and meet our experts by visiting our page on the Cyber Elite program.
Experience the LIVEcommunity
Now that you know about how LIVEcommunity can enrich your experience with Palo Alto Networks technology and help you connect with others in the industry, we want to share information about how you can start engaging on LIVEcommunity.
If you haven't already, be sure to register for your free LIVEcommunity account. If you're a customer or partner, you can register using your Customer Support Portal (CSP) SSO credentials. Once you register, we encourage you to watch our Getting Around the Community video to help you get started navigating LIVEcommunity.
We have an FAQ and a Community Feedback page where you can share any questions and suggestions about your experience with the community team.
We are looking forward to you being a part of our community!