Across industries, organizations are gravitating to the cloud and leveraging cloud native architectures to enable digital transformation and achieve a scale never before thought possible. By leveraging the cloud and new architectures, such as containers, Kubernetes and serverless, enterprises can deploy more quickly than ever before.
At the same time, there are many new security challenges to address, including gaining visibility into the configurations of their cloud resources, managing vulnerabilities in running environments, and securing environments and applications. In addition, organizations are integrating security into developer and DevOps tooling, all to identify and fix flaws before applications are deployed into production.
A 2021 GigaOm Leader in Vulnerability Management
In GigaOm's latest Radar Report, the analyst firm evaluated 12 vendors for their ability to manage and identify vulnerabilities in cloud native applications and integrate security across the software design lifecycle (SDLC).
We're proud to have Prisma® Cloud by Palo Alto Networks – the industry's only Cloud Native Security Platform – be recognized as a Leader in the 2021 Report.
Palo Alto Networks was the only Leader to be recognized as an Outperformer based on GigaOm's rating of our ability to evolve and innovate over the coming 12-18 months.
As an innovator, we are recognized for our feature breadth and depth in addition to our continued enhancements that differentiate us in the cloud security market. We provide capabilities that are required by companies around the world.
"Palo Alto Networks is a Leader in the Innovation and Feature Play quadrant, and is moving fast based on a spate of important acquisitions. Its hard turn toward the Platform Play quadrant reflects the company's ongoing effort to forge a coherent platform from these acquisitions."
Read a complimentary copy of the 2021 GigaOm Radar for Vulnerability Management.
Prisma Cloud: The Comprehensive Cloud Native Security Platform
Security and DevOps professionals need to understand how cloud native architectures impact the requirements for managing vulnerabilities and securing their applications. Security tools need to be purpose-built for new architectures across hosts, containers and serverless, to prioritize risk at runtime and integrate security into current DevOps workflows.
GigaOm highlights these comprehensive capabilities in the diagram below, where solutions combine the comprehensive capabilities from Cloud Security Posture Management (CSPM) and Cloud Workload Protection Platforms (CWPP) into a single offering.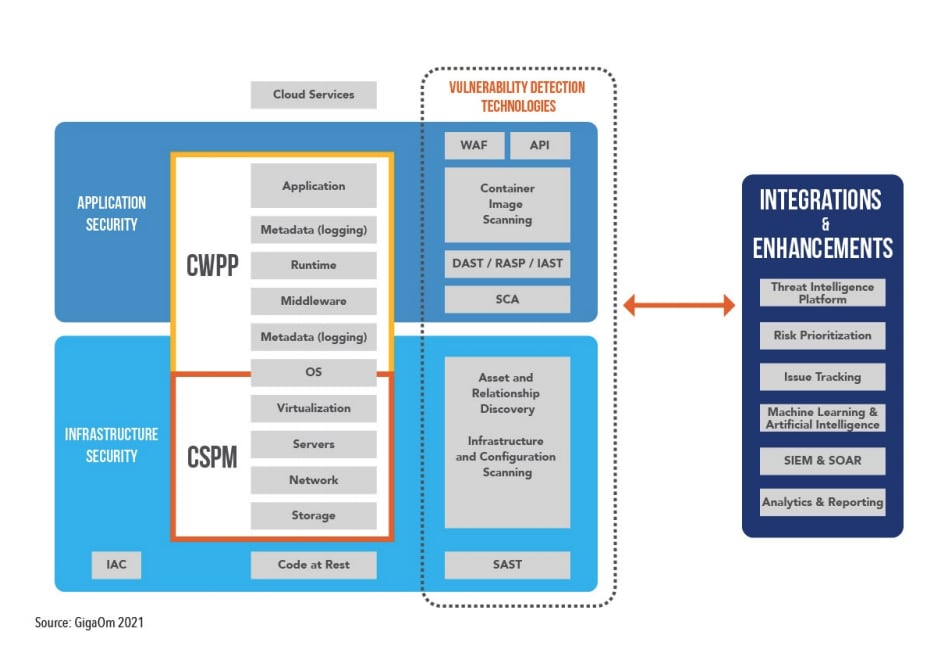 With Prisma Cloud, DevOps and security teams gain comprehensive security capabilities across the full application lifecycle, as highlighted in GigaOm's report from a single, unified platform.
GigaOm shared the following as strengths about Prisma Cloud in their report:
"Findings from integrations with third-party DevOps tools can be onboarded into the Prisma Cloud console to be included as policy alerts that go to DevOps engineers for investigation. Prisma Cloud features runtime protection for workloads including hosts, containers, and serverless, as well as auto remediation of policy violations with both built-in and customizable playbooks. The Vulnerability Explorer analyzes data based on environmental context observing containers during runtime to prioritize remediation recommendations."
Download the Report
If you are interested in learning more, download a complimentary copy of the 2021 GigaOm Radar for Vulnerability Management.