This post is also available in: 日本語 (Japanese)
Today we issued the State of Hybrid Workforce Security 2021 report, which analyzes the responses of over 3,000 enterprise information technology professionals involved in information security, network operations and application development. The goal was to understand the impact the immediate shift to remote work had on network security infrastructure, and how the experience affected hybrid workforce network security strategies with the realization that work is an activity, not a place.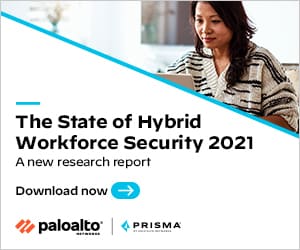 This report surfaced several priorities that network and security professionals have as you look to secure your organization's hybrid workforce. But, before I share some of the findings I found most interesting, I want to first congratulate all the network, security and application development professionals for the amazing work you have done in the past 18 months.
It was a herculean task to shift your organizations to a remote-first working environment in a matter of days or weeks. Without you, your organizations and the people within them would not have been able to keep working. Congratulations on a job well done.
Now, let's dig into what this report told us about your experience with the instantaneous remote workforce, and what you are focusing on now as you build a sustained, secure hybrid workforce.
Hard Decisions for Network and Security Teams
As network and security professionals, we know we are always in a high stakes game of whack-a-mole. Just when we knock one issue down (like completely rearchitecting networks for remote access rather than onsite connectivity), new challenges arise. Based on what we heard in this survey, maintaining comprehensive network security is now your key challenge.
If we look at this challenge more closely, 51% of survey respondents stated they have difficulty maintaining comprehensive network security. Perhaps what's even more concerning is that 61% of respondents noted they struggle to provide the necessary remote security to support work-from-home capabilities.
At the beginning of the pandemic, most organizations' immediate concern was how to stay running and keep people working even if they couldn't return physically to the workplace. Based on what we learned in the survey, this immediate shift to remote work turned network access and network security into equally high, yet competing, priorities for network and security professionals. Ultimately, network access emerged the winner.
From Remote Work Reaction to Secure Hybrid Workforce Transformation
Many organizations are past the remote work reaction phase that was required to support an instantly remote workforce and must now pivot to focus on this new phase of securing remote access.
Long-term support for a secure hybrid workforce requires sustainable, safe and manageable networks. The good news is that there is a strategy and corresponding solutions available to meet both your remote access connectivity and security requirements. It's called SASE (pronounced "sassy")— Secure Access Service Edge. SASE-built solutions provide the best of both the networking and security worlds.
Cloud-based SASE solutions provide organizations another beneficial layer beyond connectivity and security, adding in flexibility and scalability. It seems like these benefits may be what you are looking for. Our State of Hybrid Workforce Security 2021 report tells us how cloud-delivered network security is important to you:
94% of people are considering a hybrid workforce model in the next 12 months.
71% of people are planning to move security mostly or fully to the cloud in the next 24 months.
54% of people anticipate spending more than $5 million on remote security.
This is where Prisma Access, our cloud-delivered network security platform, can help. We eliminate the need to make an excruciating choice between network access or network security. You get both.
The past year and a half have been tough for network and security professionals, but we are here to help. Get more details on how Prisma Access can help secure your hybrid workforce, and get your copy of the State of Hybrid Workforce Security 2021 report for a closer look at what your network security peers are thinking about when it comes to building a secure hybrid workforce.
If you would like to learn more about SASE or are curious how this strategy might help you achieve your own network and security goals this year, join us online for SASE Converge 2021 — the industry's first conference dedicated to SASE — on September 28 and 29. You'll hear from leading voices within the networking and security industries, get details on the impact SASE technologies have made for organizations today and learn what new innovations are to come.