Immediate Visibility into What Matters Most
Security practitioners are often flooded with potential problems of varying importance, and it's difficult to know where to begin. Prisma Cloud is here to help.
We designed our new Prisma Cloud console homepage to surface key pivot points into other sections in the product. Users can now jump to overviews of assets and compliance, onboard new repos and cloud accounts, and get information on our latest releases and threat research.
The first thing this page does is immediately show you the top issues in your environment. In a quick glance, you'll learn whether those issues have been trending up or down in the last 24 hours.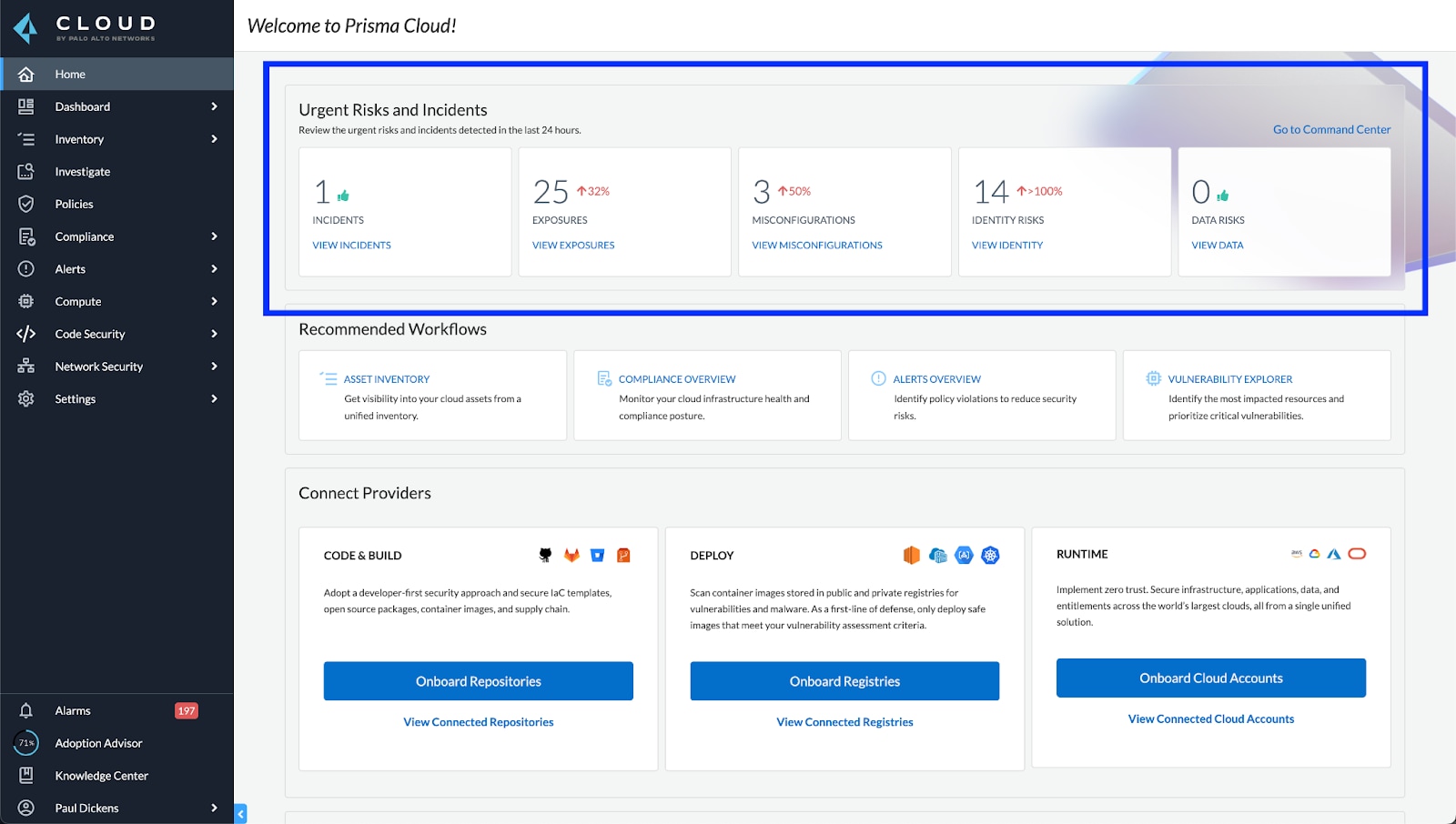 From here, you can dig into your most concerning issues or go to the Prisma Cloud Command Center dashboard to find expanded details on the summarized data found on the console homepage.
Single Pane of Glass for Urgent Security Issues
Command Center provides a look at the top five urgent issues across a number of security categories — incidents, exposures, vulnerabilities, misconfigurations, identity risks, and data risks.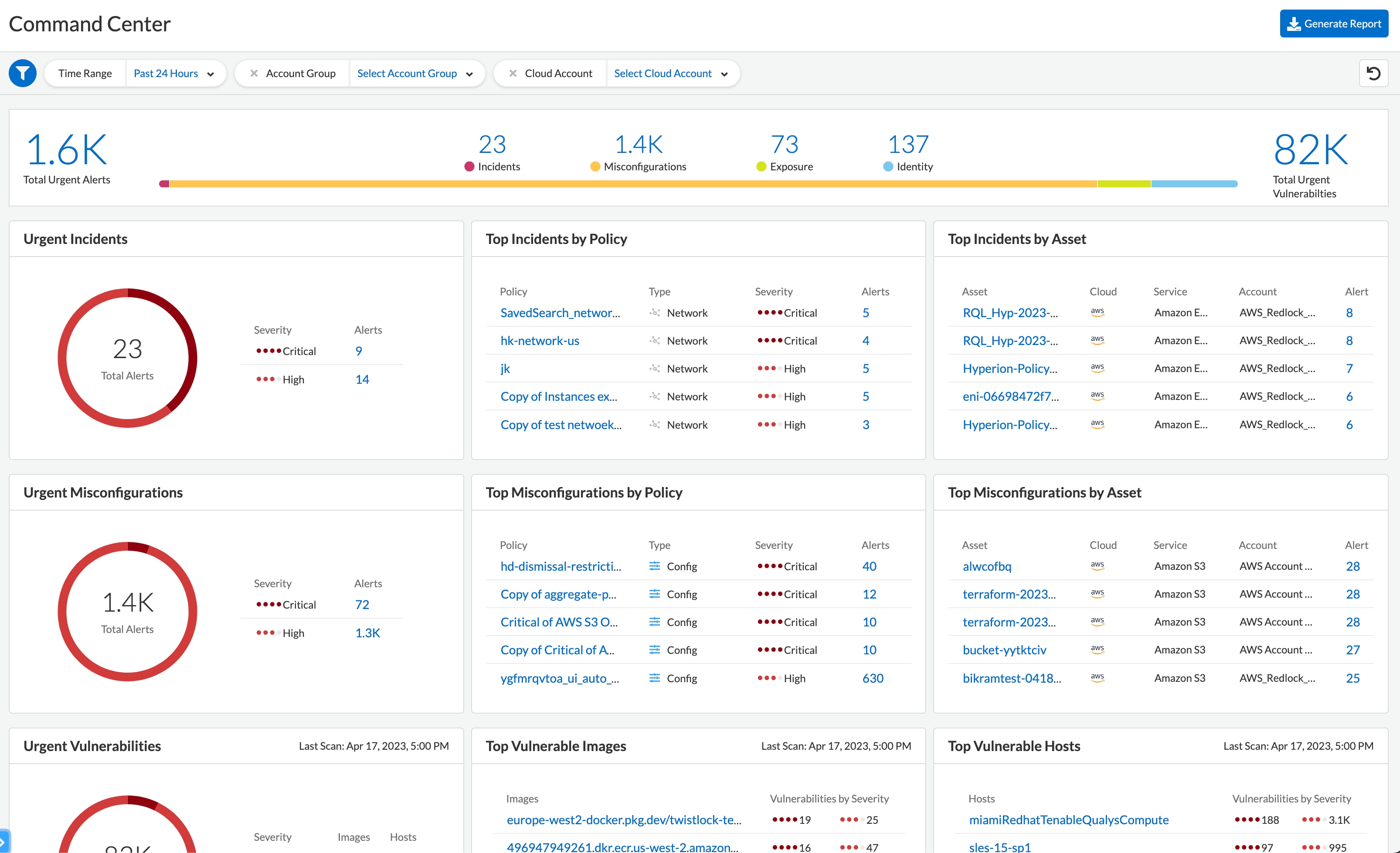 Each security category is broken down into the top five violated policies and by the impacted assets with the most critical and high severity alerts. The images and hosts are identified for the most severe vulnerabilities. These details are vital to taking action on the highest risks in your cloud environment.
But sometimes more information is needed to understand a critical security alert. To better understand what led to the event, you can refine your view and consider the history by filtering related information from the previous 30 days. You can also get targeted information about urgent security threats within a team or business unit by filtering based on account group and cloud account.
Additionally, you can pivot directly into the alerts, policies, or asset inventory pages to get deeper information on the security issues surfaced, and understand how to remediate the problem.
Exec-Ready Reporting, On Demand
Command Center also provides an export of all the information presented on the dashboard, laid out in a presentation-ready PDF that you can pass to key stakeholders or use for state-of-the-business updates.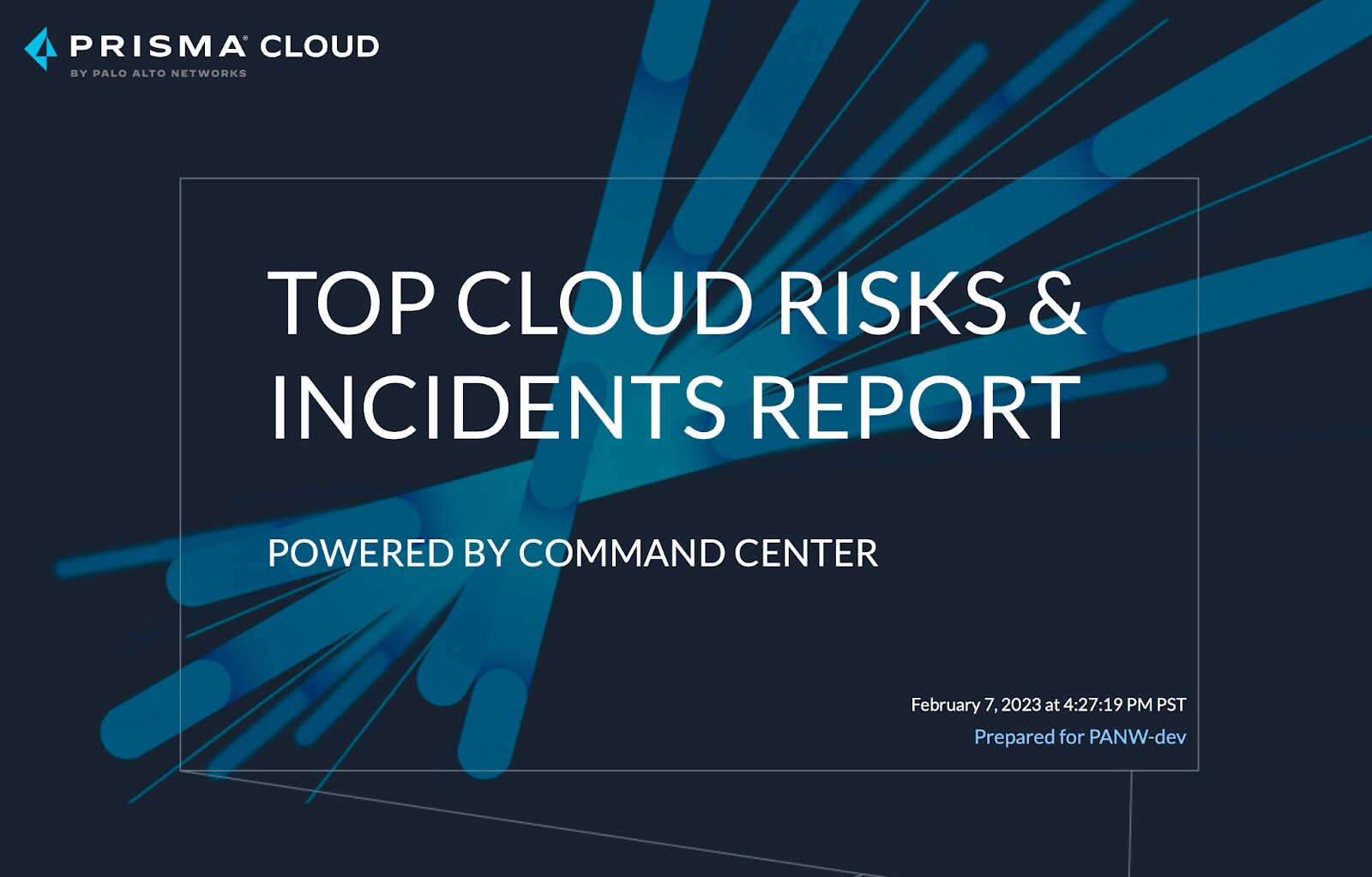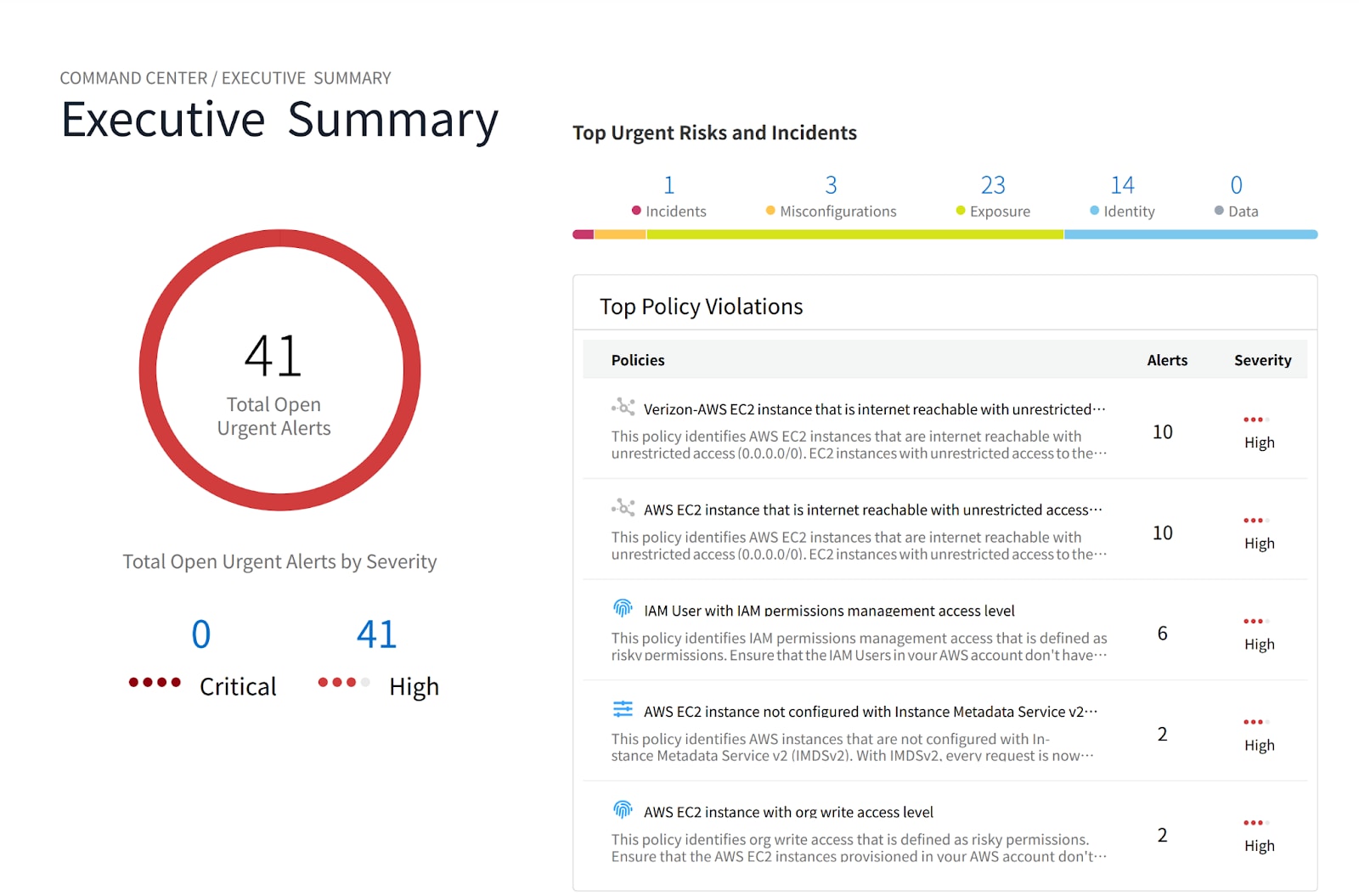 Reporting is a key need for security professionals, but creating easy-to-read, consumable reports is time-consuming. Command Center's on-demand PDF report helps executive audiences quickly understand the most critical issues facing their organization, while giving time back to practitioners to address pressing security needs.
Ruthless Prioritization of Urgent Risks
Cloud and application environments are complex, dynamic, and can generate a lot of alerts. The great majority of alerts, though, don't reflect significant security risks. Instead, they tend to distract teams from business-critical activities.
With the new Prisma Cloud homepage and Command Center, you'll quickly see urgent alerts, understand why each is critical, and know the resource information to take accurate action or share the necessary details with the responsible organizations. You'll be able to simply and regularly report on the security posture of your cloud environment, as well as the actions taken to secure it. Additionally, with Prisma Cloud's code-to-cloud visibility, you'll be prepared to identify and prevent the most sophisticated attacks.
From the moment you log in, Prisma Cloud helps focus attention on the most crucial security issues in your environment, while providing enough context to make the data meaningful and actionable.
Learn More
If you haven't tried Prisma Cloud, we invite you to take it for a test drive. Discover the Prisma Cloud advantage with a free 30-day trial.