Don't miss the breakout and theater sessions, demos, CTF games, parties, prizes, and more. Come to San Francisco or join us online as we showcase the industry's most comprehensive cloud-native application protection platform (CNAPP) at RSA Conference from Apr. 24 – 27.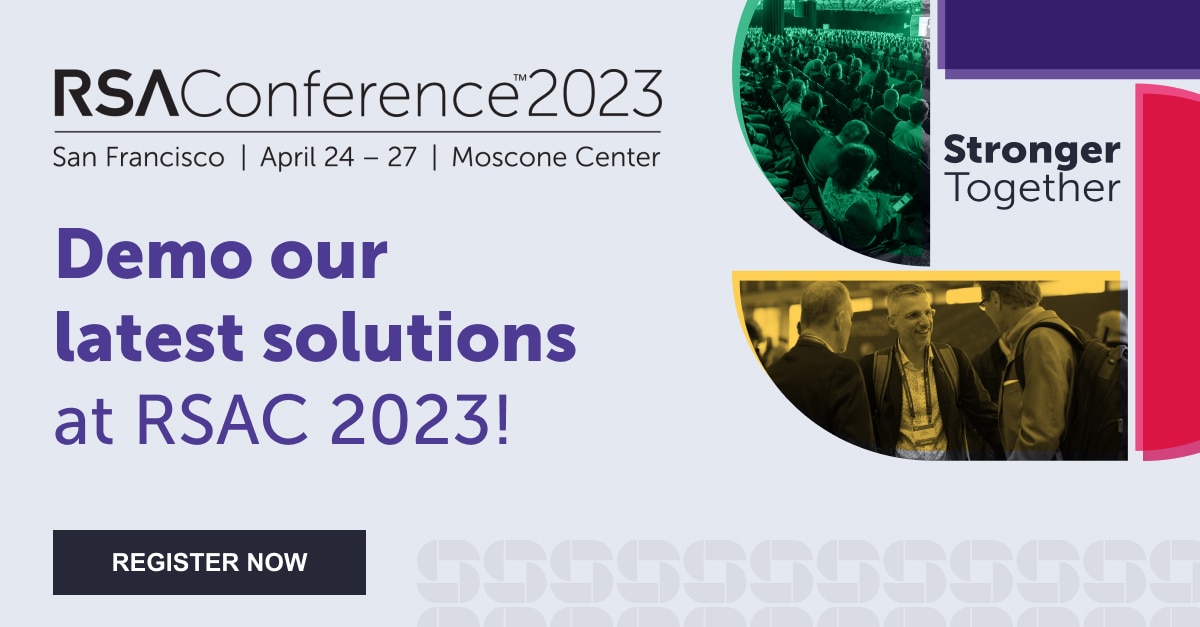 In the cybersecurity industry, no one goes it alone. We build on each other's diverse knowledge to create the next breakthrough — exchanging ideas, sharing our success stories, and bravely examining our failures.
RSA Conference is happening April 24 - 27 in San Francisco, California, and Prisma Cloud by Palo Alto Networks will be there!
Palo Alto Networks is a Platinum+ Keynote Sponsor of RSA 2023 and is delivering a keynote presentation and track sessions, as well as in-booth theater presentations with demos and after-hours fun.
Secure From Code to Cloud
Prisma Cloud secures applications from code to cloud across multicloud environments. The platform delivers comprehensive security with both continuous visibility and proactive threat prevention throughout the application lifecycle. Prisma Cloud enables security and DevOps teams to effectively collaborate to accelerate secure cloud-native application development and deployment.
Speaker Sessions at RSA
Keynote: Why I'm Optimistic (and You Should Be, Too)
Tuesday, April 25th: 11:10 AM PST
Presented by: Lee Klarich, Chief Product Officer, Palo Alto Networks
In a world where each new technology innovation "gifts" bad actors a fresh attack landscape, it's natural to wonder if everyone should stock up on cyber insurance. But Lee Klarich believes that cybersecurity is becoming a solvable problem — and that you should, too.
Lee will provide a fresh perspective on how new technology advances have changed what's possible, as well as a framework that organizations can adopt to embrace what's next.
Register for Lee Klarich's keynote session, Why I'm Optimistic.
Session: Pwning the CI (GitHub Actions Edition)
Monday, April 24: 1:10 PM PST
Presented by: Steve Giguere, Developer Advocate, Palo Alto Networks
Our path to an open source, GitOps heaven has exposed new security challenges as our CI solutions are exposed to the world. The soft underbelly of our pipeline is as visible to willing contributors as it is to malicious subversives. In this talk, we'll look at examples of known exploits to GitHub Actions workflows, showing how simple bad practices can open our supply chain to attackers.
Register for Pwning the CI.
Session: Abuse of Repository Webhooks to Access Hundreds of Internal CI Systems
Thursday, April 27th 10:50 AM PST
Presented by: Omer Gil, Sr Manager Research & Asi Greenholts, Sr Staff Researcher
Many organizations opt for a CI/CD architecture that combines SaaS-based source control management systems with a self-managed CI solution that's not exposed to the public internet. In this talk, presenters will discuss a novel attack vector that allows anyone on the internet to abuse repository webhooks to do more than trigger pipelines and show how they accessed hundreds of internal CI systems in scale.
Register for Abuse of Repository Webhooks.
CISO Roundtable: Cloud Security, Safeguarding Retail's Future
Wednesday, April 26th 12:00 PM PST
Presented by: Amit Chetal, Global Industry Leader - Retail • WW Sales Functions
This roundtable, geared towards CISOs and security leaders in the retail industry, will focus on trends and challenges in cloud security and include open discussion on topics such as navigating cloud security threats, executing on shift-left strategies, and enabling consistent security policies.
Register for Cloud Security, Safeguarding Retail's Future
Prisma Cloud In-Booth Presentations 
In addition to the above conference sessions, you won't want to miss our in-booth presentations.
| | | |
| --- | --- | --- |
| Date & Time | Title | Presenter |
| 4/25  11:30 - 11:45 AM | Code to Cloud - How to Shift Left with Prisma Cloud | Ben Nicholson |
| 4/25  4:15 - 4:30 PM | Introduction to Cloud Security 101 | Mohit Bhasin |
| 4/26 11:00 - 11:15 AM | DecSecOps for Dummies | Stephen Giguere |
| 4/27 11:10 - 11:15 AM | Cloud Security Posture Management Compliance and New Features | Ben Nicholson |
Join Prisma Cloud in San Francisco at RSA!
Visit Booth #5762 at the North Moscone Center in San Francisco to chat with a Prisma Cloud expert, attend in-booth presentations and breakout sessions, and experience personalized demos of Prisma Cloud. If you get your badge scanned at both booths, you'll be automatically entered into our daily raffle to win a OneWheel Pint!
Executive Meeting Requests: Visit with Prisma Cloud at RSA
Customer and partner engagement is important to our organization because it's the building block of customer experience and relations. If you'd like to schedule a meeting with Prisma Cloud subject matter experts, executives, or sales reps, we'll be available.
Celebrate Prisma Cloud at RSA
After an exciting weekend at BSides San Francisco, take time to unwind with Prisma Cloud before heading into RSAC. Join us at The Playroom at Hotel Zetta, one of San Francisco's most unique hotels, on Sunday, April 23rd from 6-9 PM. The Playroom is a unique space in downtown San Francisco where old school game rooms meet modern tech. Enjoy craft cocktails while you compete for a game of shuffleboard or pool and test your luck for prizes on The Playroom's own 30-ft tall Plinko wall. Space is limited so be sure to register.
Additionally, come party the night away with us at Hotel Zetta on Wednesday, April 26th from 6-9 PM to network with the Palo Alto Networks team, industry leaders and your peers. Don't miss the party music courtesy of the in-house DJ, our showcase of hand selected wines and custom cocktails, curated bites and raffle drawing of some cool prizes. Be sure to RSVP.