Historically, enterprises have deployed Multiprotocol Label Switching (MPLS) networks to connect branch offices to centralized data centers, using hardware routers and manual configuration. Fast forward to a new and improved way of architecting your network: software defined wide area network (SD-WAN), this approach was designed to cut costs while solving the challenges presented by traditional WAN architectures. As with any technology, change is needed to address current business challenges, and application-defined SD-WAN is paving the way.
Current SD-WAN solutions have relied on taking the traditional model of packet routing and forcing it to fit the cloud-ready enterprise. Routers and edge devices only depend on traditional networking metrics such as latency, packet loss, and jitter, and legacy SD-WAN didn't change that narrative. As a result, these legacy SD-WAN solutions fall short in delivering on the transformative promise of SD-WAN.
Built using Layer 3 packet-based policies, legacy SD-WAN solutions offer limited application-based networking policies and app visibility. This can make it challenging for network teams to deliver application service level agreements (SLAs) and make the smartest network and security decisions.

Legacy SD-WANs Cannot Adapt
Today, businesses are looking at the application itself, which means that the market needs an SD-WAN solution that enables policies defined by applications to improve end-user experience. It's clear that the cloud journey is no longer about applications in the datacenter. According to Marc Wilczek from CIO, 81% of enterprises have a multi-cloud strategy today, with many others viewing cloud adoption as a top priority. The reason for this change is the digital transformation that's happening in the market today - applications are the lifeblood of businesses and downtime has serious financial and business implications. With Layer 7 visibility, enterprises can make the decisions based on app-performance, enabling more intelligent decision making.
We often see SD-WAN vendors try to transition from a packet-based approach to an app-defined approach. This is difficult because they still use the packet as the unit of operation and you can't transform from a packet router to high performance application delivery. An analogy for this would be that you cannot just create an efficient and best-in-class electric vehicle by retrofitting a battery to an existing gas guzzler!
Next-generation SD-WAN Paves the Way
Palo Alto Networks takes a fundamentally different approach to SD-WAN. Our newly rebranded Prisma SD-WAN (formerly CloudGenix SD-WAN) was built upon an application-defined foundation, using an application session based approach. This approach provides deep application visibility, with Layer 7 intelligence for network policy creation and traffic engineering, ensuring exceptional user experience by enabling network teams to deliver SLAs for all apps including cloud, Software-as-a-Service (SaaS) and Unified Communications as a Service (UCaaS). With our app defined approach, we expand our policy and path steering decision making intelligence to include Layer 7 information.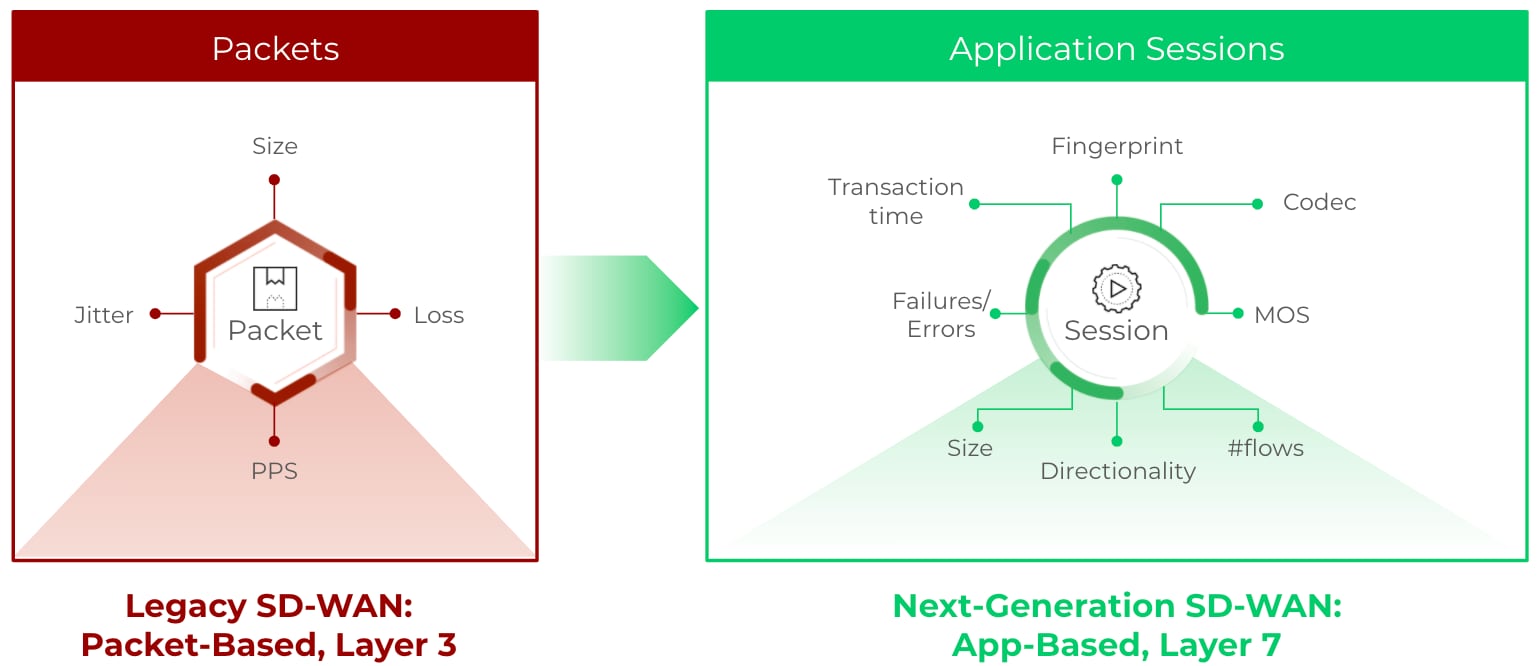 With Prisma SD-WAN, customers, like Aaron's Inc., benefit from deeper visibility into applications and network traffic, as well as rapid deployment across hundreds of locations. A testament from Aaron's chief information officer, John Trainor:
"We now have an app-centric view of the world and not one based on a protocol sense of the world. This allows us to configure the network to be more business[-aligned] than IT-aligned—the network is aligned to business outcomes."
It's not just our customers validating the importance of an application-defined SD-WAN. Gartner recently published their 2021 Gartner Peer Insights 'Voice of the Customer': WAN Edge Infrastructure report where Prisma SD-WAN repeatedly beat all other vendors with a perfect score of 5/5! Many other vendors dropped from their positions, while Prisma SD-WAN grew stronger in every category.
At Palo Alto Networks we fundamentally believe that our app-defined next-generation SD-WAN solution can deliver real results to our customers. With greater application visibility and actionable intelligence, enterprise IT can now enable real business outcomes for their organizations without compromising on cost and productivity.
Learn more about how Prisma SD-WAN delivers 243% ROI to our customers in the Forrester TEI Spotlight report.