Organizations are reconsidering how they invest in technology to support their hybrid workforce long term. Security, networking, and digital experience management are IT infrastructure components evolving to support a new, hybrid workplace.
One of the key trends fueling this transition to hybrid work is increased reliance on the internet & SD-WAN to securely connect users and locations to applications in the cloud. As the industry's most complete SASE solution, Prisma SASE converges best-of-breed security and SD-WAN into a single cloud-delivered service, without having to make compromises like user experience. 
Let's dive deeper into user experience monitoring and the branch digital experience for your hybrid workforce, and why it's so important. 
Get to root causes faster
With autonomous digital experience management (ADEM), you have visibility into the entire service delivery path from user and branch to an application that can impact your user experience. This visibility level helps you quickly isolate segments which may result in degraded user and branch experience and resolve problems proactively before users experience them. You can get root-cause diagnostics of device, WiFi, internet, applications, and network issues that commonly impact user experience, with visibility down to the "where" and the "why" of network issues. 
The native integration between ADEM and Prisma SASE gives you the most comprehensive monitoring coverage across users, branches and applications. ADEM provides full visibility into all active and backup WAN paths connecting branches to various applications hosted in SaaS, IaaS, or private data centers. This industry-first, SASE-native integration provides what would otherwise be unachievable visibility. 
Proactively manage branch office experience   
ADEM proactively measures the end-user experience of monitored applications running in a branch office so you can quickly islolate and resolve problems before they impact multiple users.
In the same dashboard visualizing your mobile or home user's experience,  you can also see users connecting from branch locations. The dashboard provides an application experience score on a per-path basis, whether that path is active or backup. The ability to run proactive synthetics on every path lets you know the best path,  per application, for all users in a branch office. Real-user monitoring enhances real-time visibility and experience diagnostics. 
Branch experience monitoring, step-by-step
Let's walk through an example of ADEM capabilities integrated with Prisma Access and Prisma SD-WAN for your branch locations.
Step 1
This remote sites dashboard shows you overall branch experience for all monitored applications and provides visibility into active and backup path experience for individual monitored applications. With this visibility, you can see that the active path for the Slack application is performing "poor" and the backup path for the same application is performing "fair."   This indicates something is impacting both active and backup paths.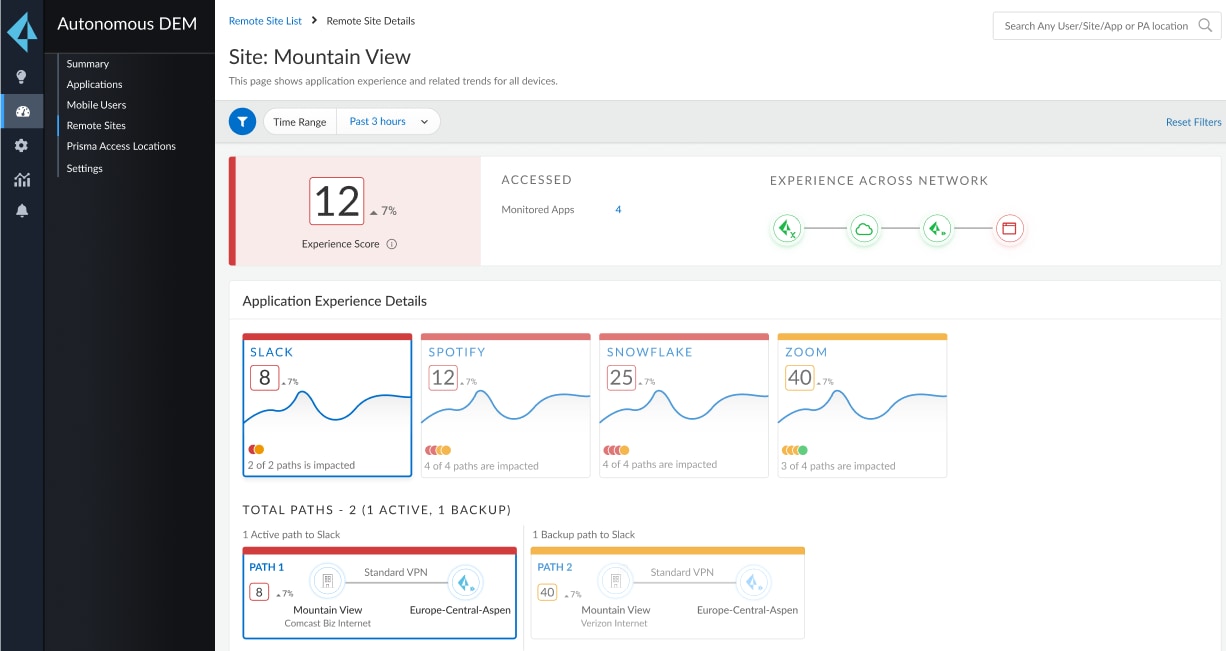 Step 2
Further drilling down to topology, you can see ADEM isolated the issue to the Internet Service Provider (ISP) segment. The icon turned red, giving the administrator quick visibility into which segment impacted user experience.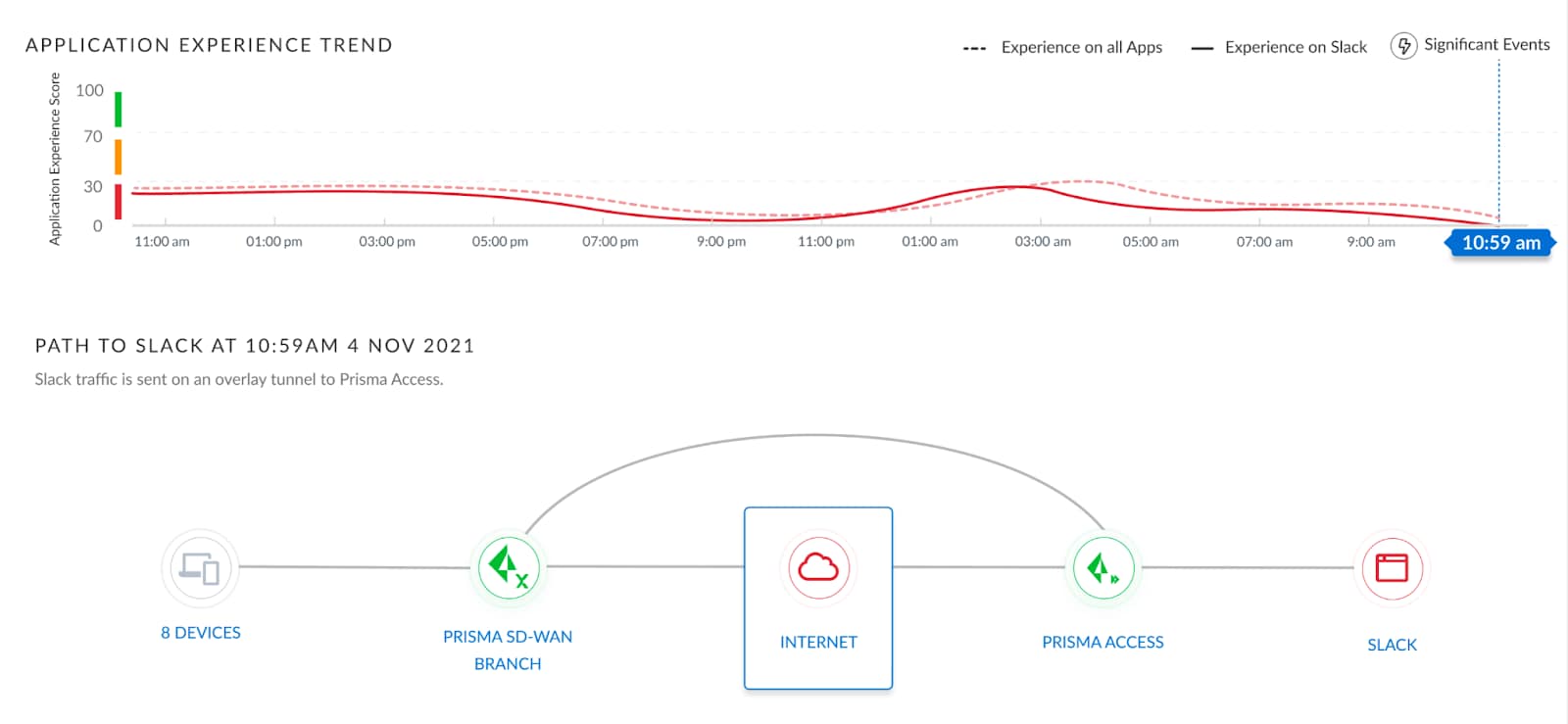 Step 3
Clicking on the Internet icon provides further visibility into network performance metrics trends like latency, jitter, and packet loss impacting ISP performance.

Step 4
The IT administrator can further navigate to path visualization where they get visual clues of hop-by-hop ISP node performance and can isolate the internet node causing degraded user and branch experience.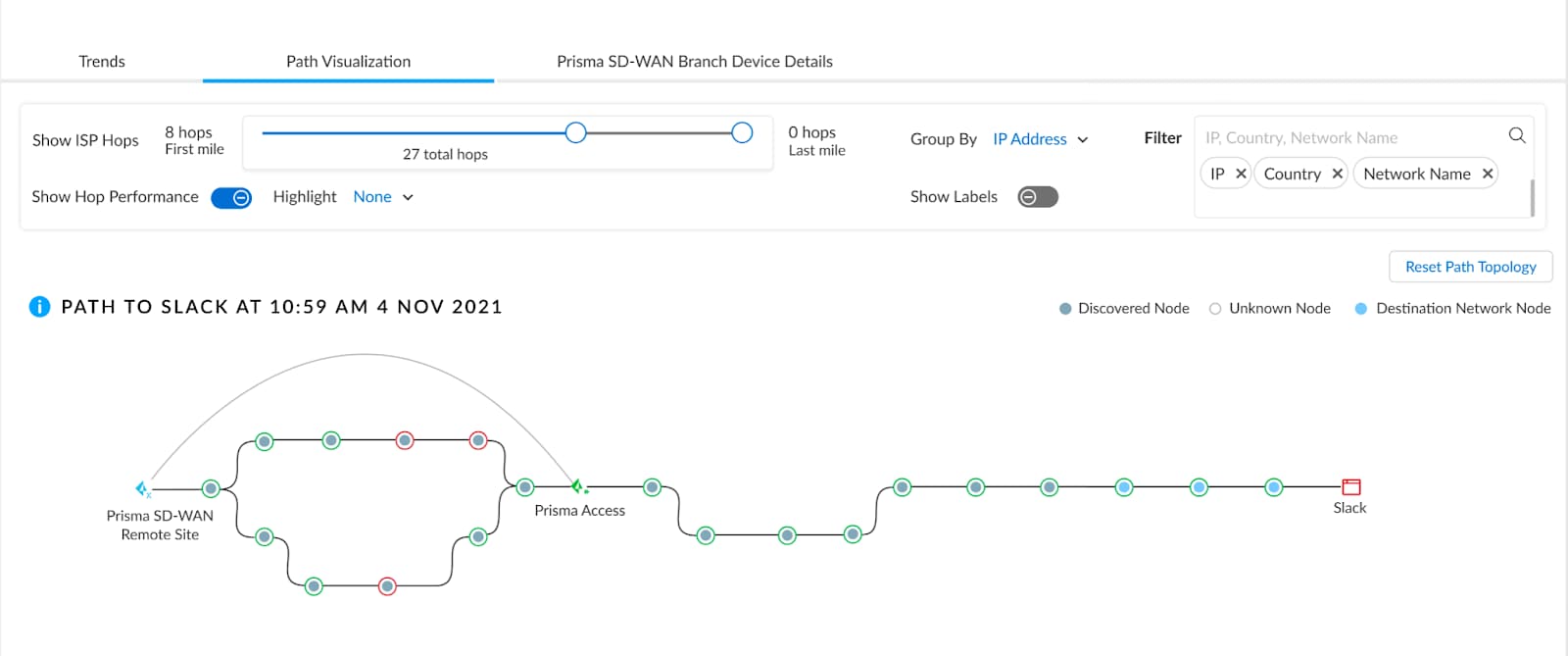 Holistic Monitoring of Remote Workers and Branch Offices
With ADEM, network operators have a full view of their end-user experience with visibility from remote users and corporate site performance at the same time. In our recent release, ADEM capabilities are natively integrated into Prisma Access and Prisma SD-WAN, without having to install additional appliances or agents on user machines or in branch offices.  
 Join us at Ignite '21 on November 16 for our session, "Why Digital Experience Management is the Secret Sauce for SASE." Get even more details on how ADEM provides the visibility you wish you had now across your network of remote, branch, and corporate office users.